Life's Survival Essentials Extra Large Gift Set
Regular price

$0.00

Sale price

$120.00
A comprehensive, Self-Care Kit in a box! This collection is designed with relaxation and self-care in mind, making it thoughtful gift for the busy bee in your life—or, and ideal treat for yourself! A great unisex product. Each product comes with its own unique fragrance, and cheeky title, designed to be the perfect pick me up or stress buster, depending on what you need. A set that makes for an ideal night of pampering!
Gift Set Products
Go to My Happy Place Bath Fizz (12.5 oz) - has the fresh Scent of Verbena Bamboo and Lemongrass
I Got This Lip Balm (0.6 oz) - is a healing lip balm formulated with exotic Kokum, Shea, and Illipe butters. Pear and Peppermint scent.
I'm Feeling Lucky Body Lotion (8.5 oz) - has a bright, clean scent of Bamboo, Grass, Sage, and Chamomile. Light weight and non-greasy, tones and tightens skin.
Light a Fire Under My @$$ Soy Massage Candle (6.8 oz) - is a clean burning candle that lasts longer than a paraffin candle. Just dip fingers into the warm soy and massage hands and feet. Fresh scent mix of Juniper, Sage, Cashmere, and Clean Linen.
Make Me a Morning Person Face & Body Scrub (9.5 oz) - has the invigorating scent of Peppermint, Lavender, and Rosemary. Cleansing and toning.
When the $#*! Hits the Fan Face & Body Soap (5.8 oz) - has an uplifting blend of spearmint, tangerine, papaya, and honey. Cleansing and hydrating.
Zero Fucks Stress Relief Balm (1.3 oz) - a moisturizing aromatherapy balm. Relaxing fragrance blend of Lavender, Peppermint, Bergamot, and Rosemary.
Ingredient Benefits
See individual products for benefits information.
Directions
Ingredients

See individual products for ingredient information
Share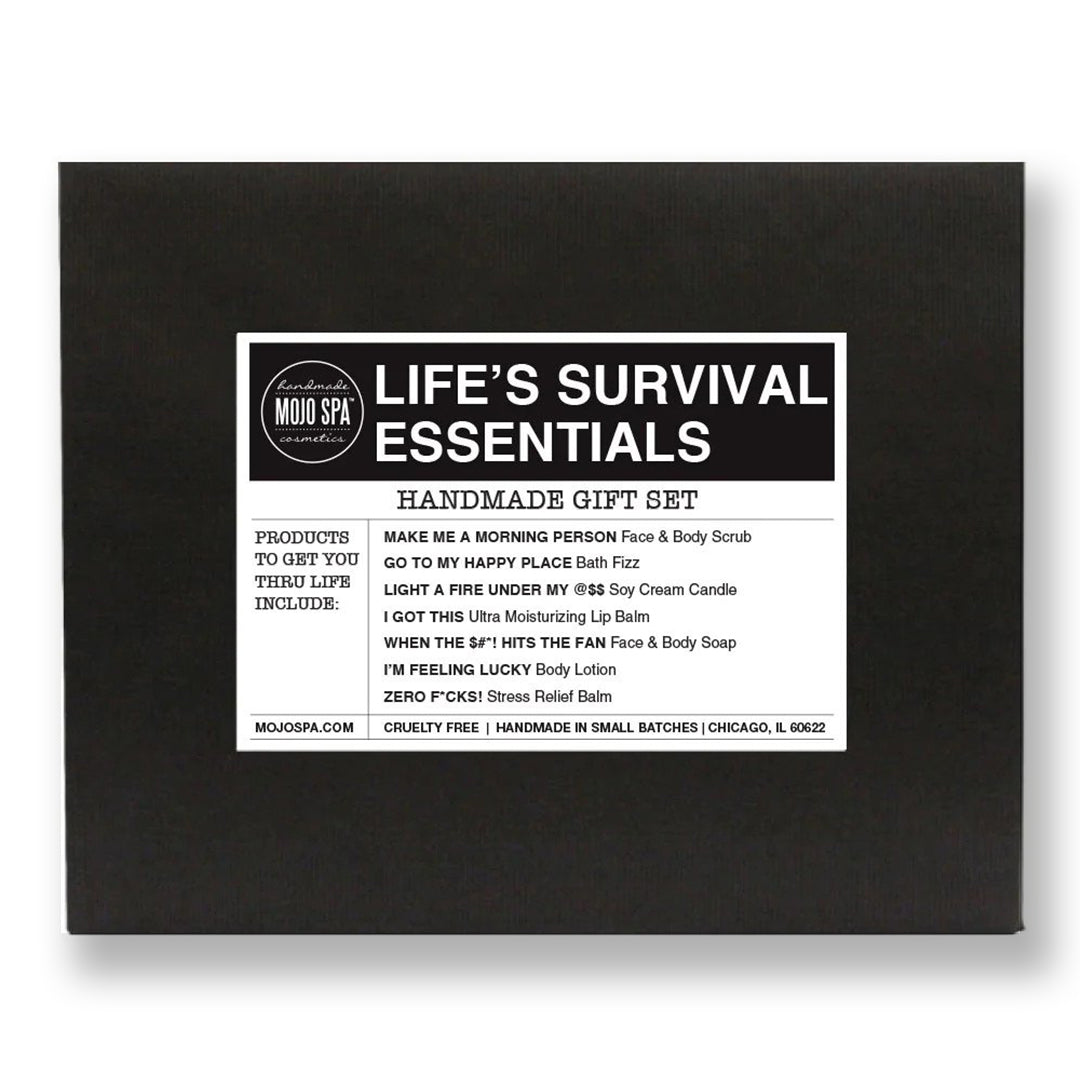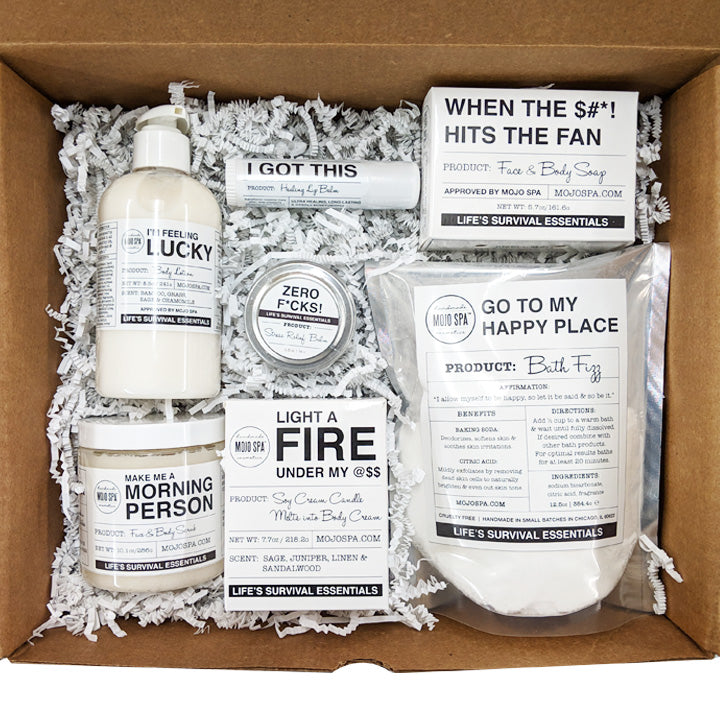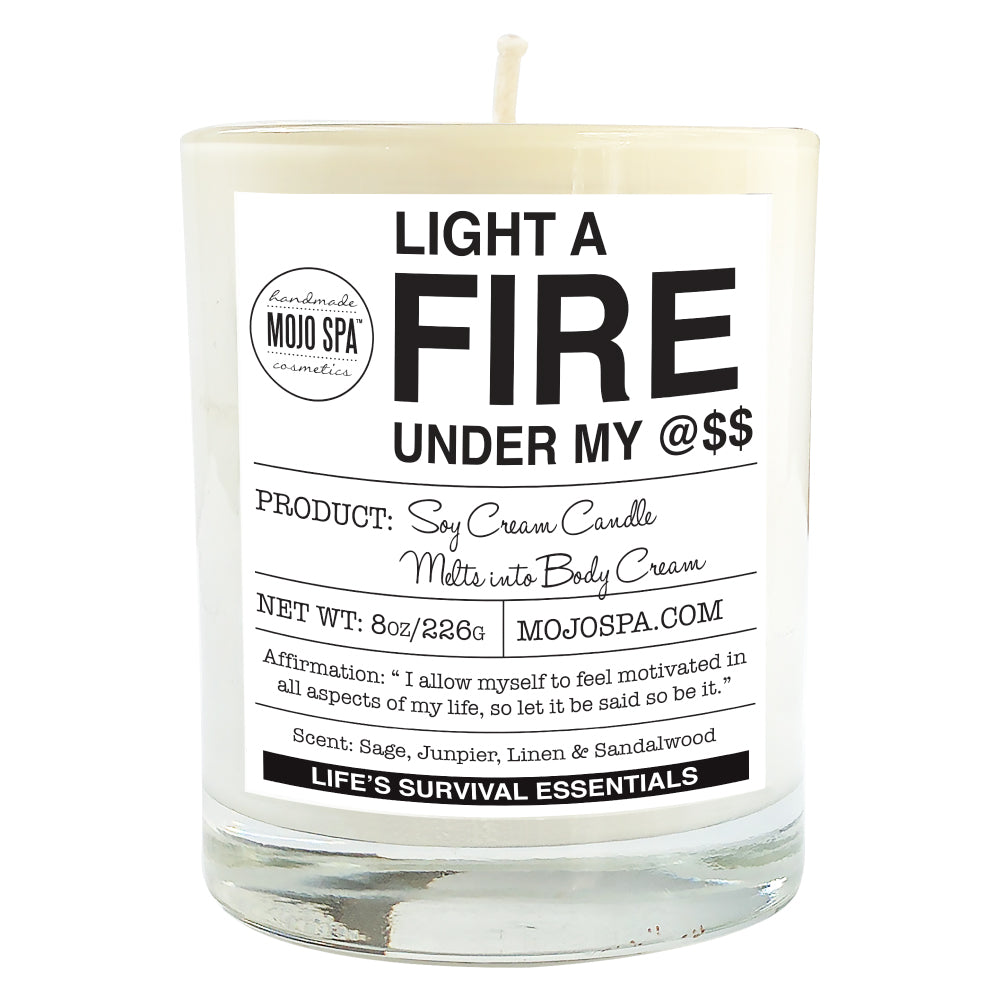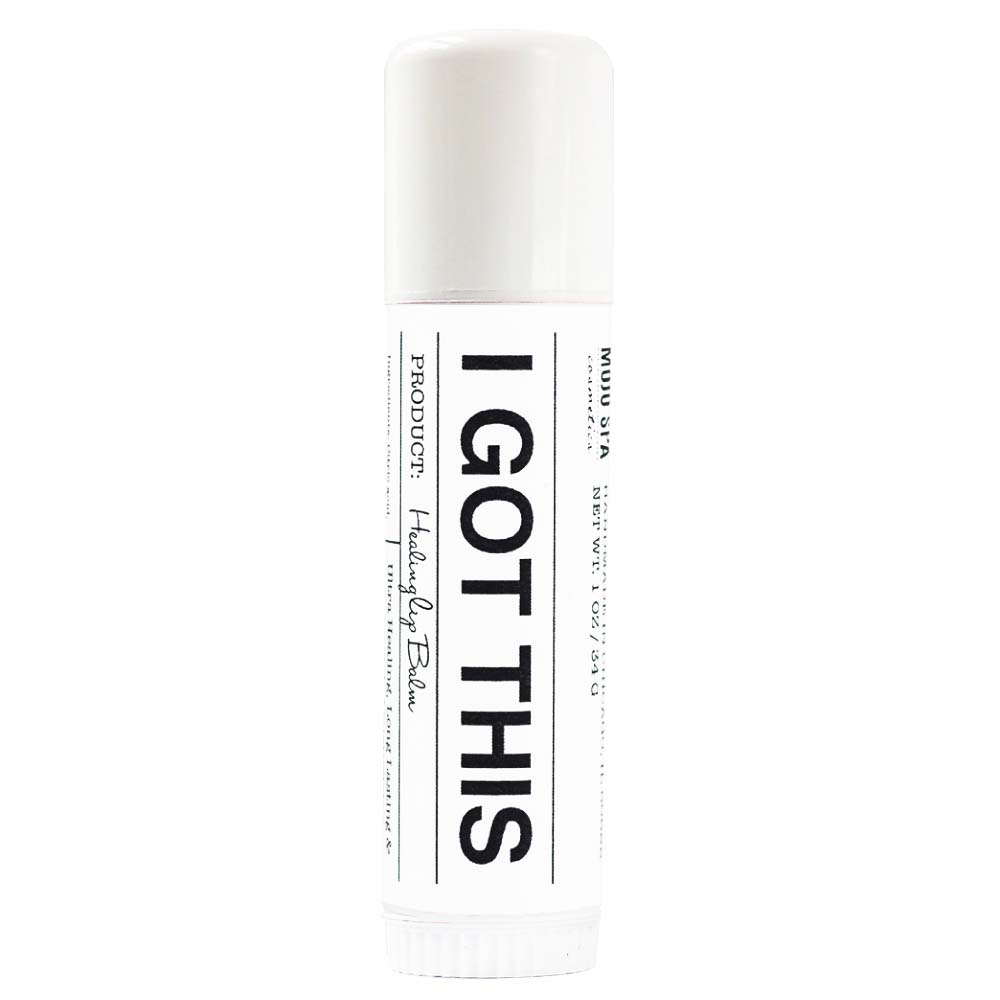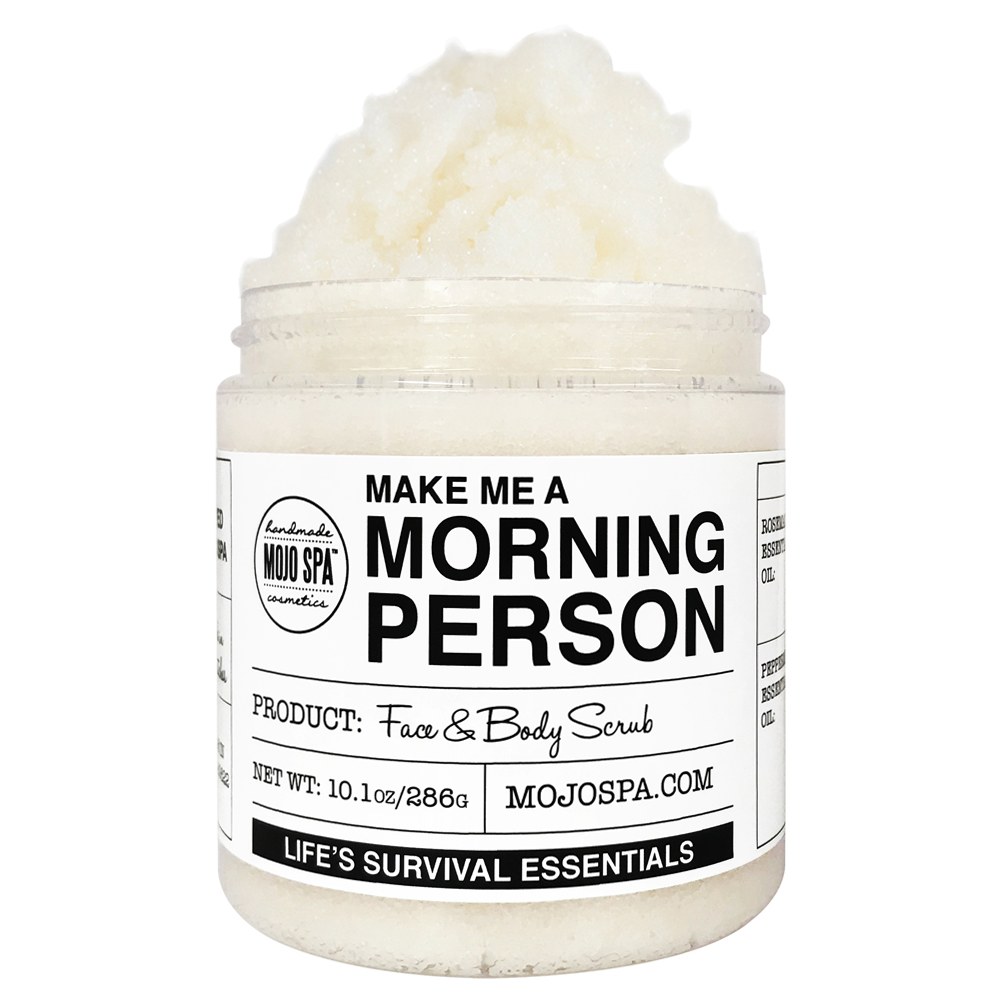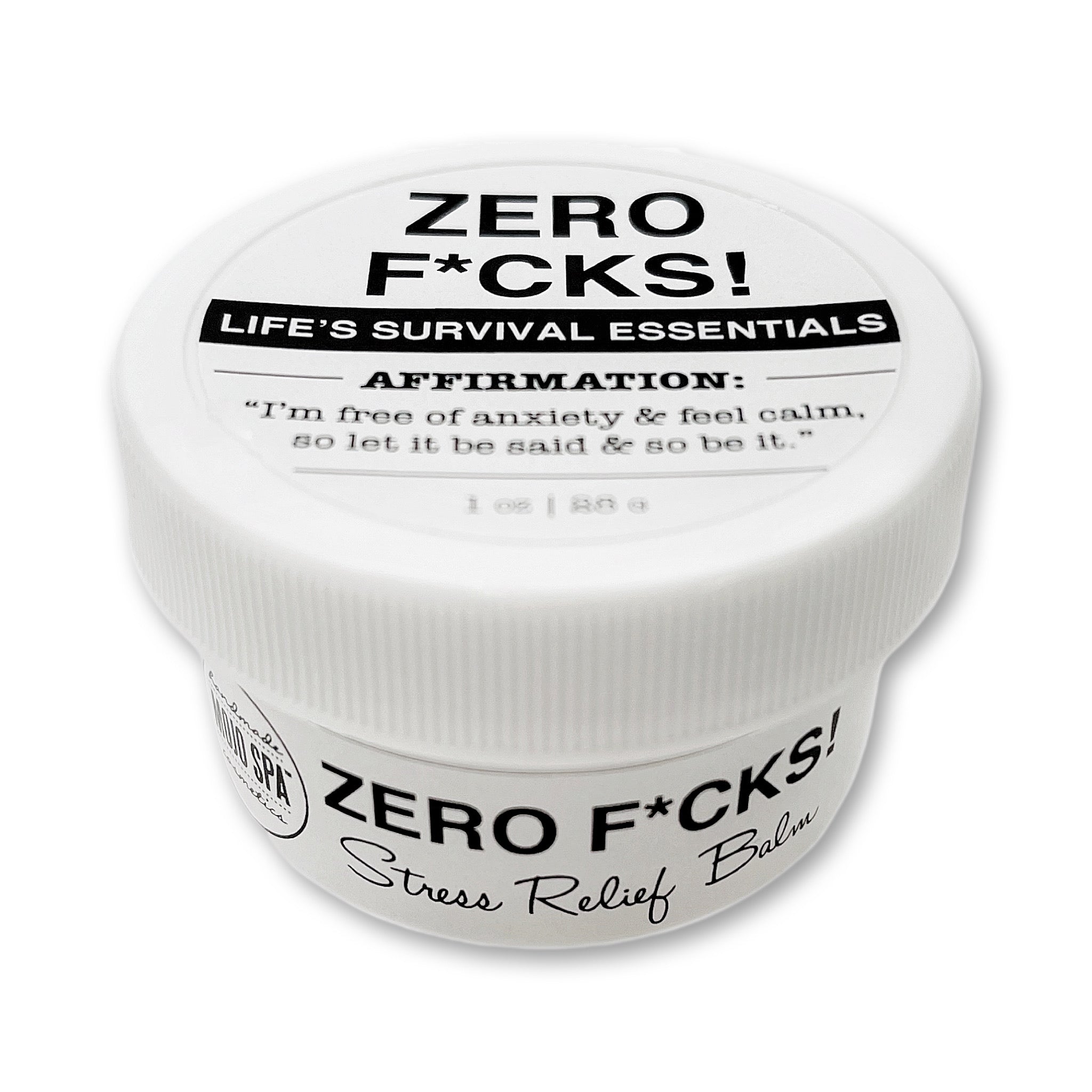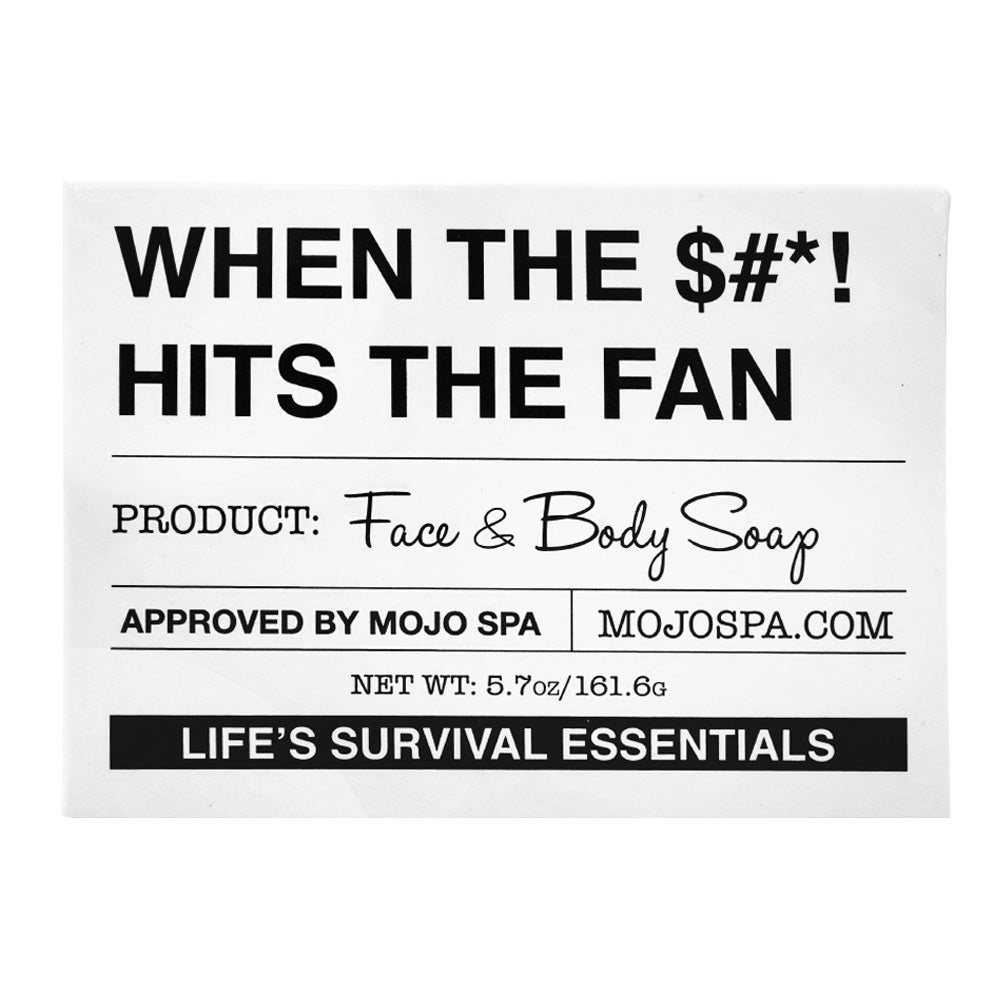 Life's Survival Essentials Collection