Business & Corporate Partnerships
We have partnered with numerous brands and corporate clients to deliver creative collaborations for customers, employees and clients. From luxury hotels, drink brands, real estate groups, media, tech and entertainment companies, we have built long-standing relationships with businesses across all sectors to develop meaningful cross-promotional opportunities.
Inquire about a partnership
Partnership Highlights
Below are a selection of highlights from some of our favorite collaborations including company branded products, custom gifts for employees and clients, product wholesale, corporate events, and pop-up shops.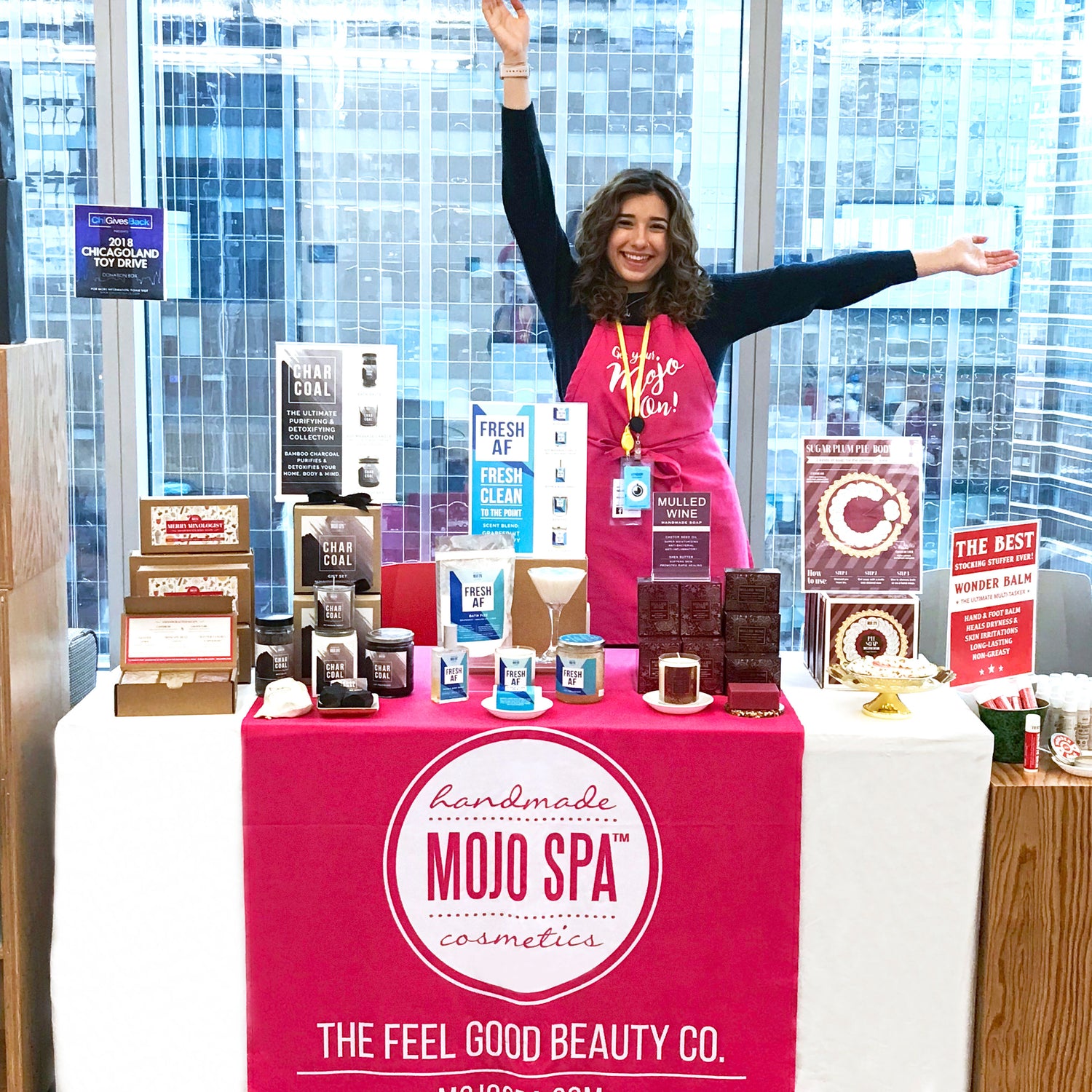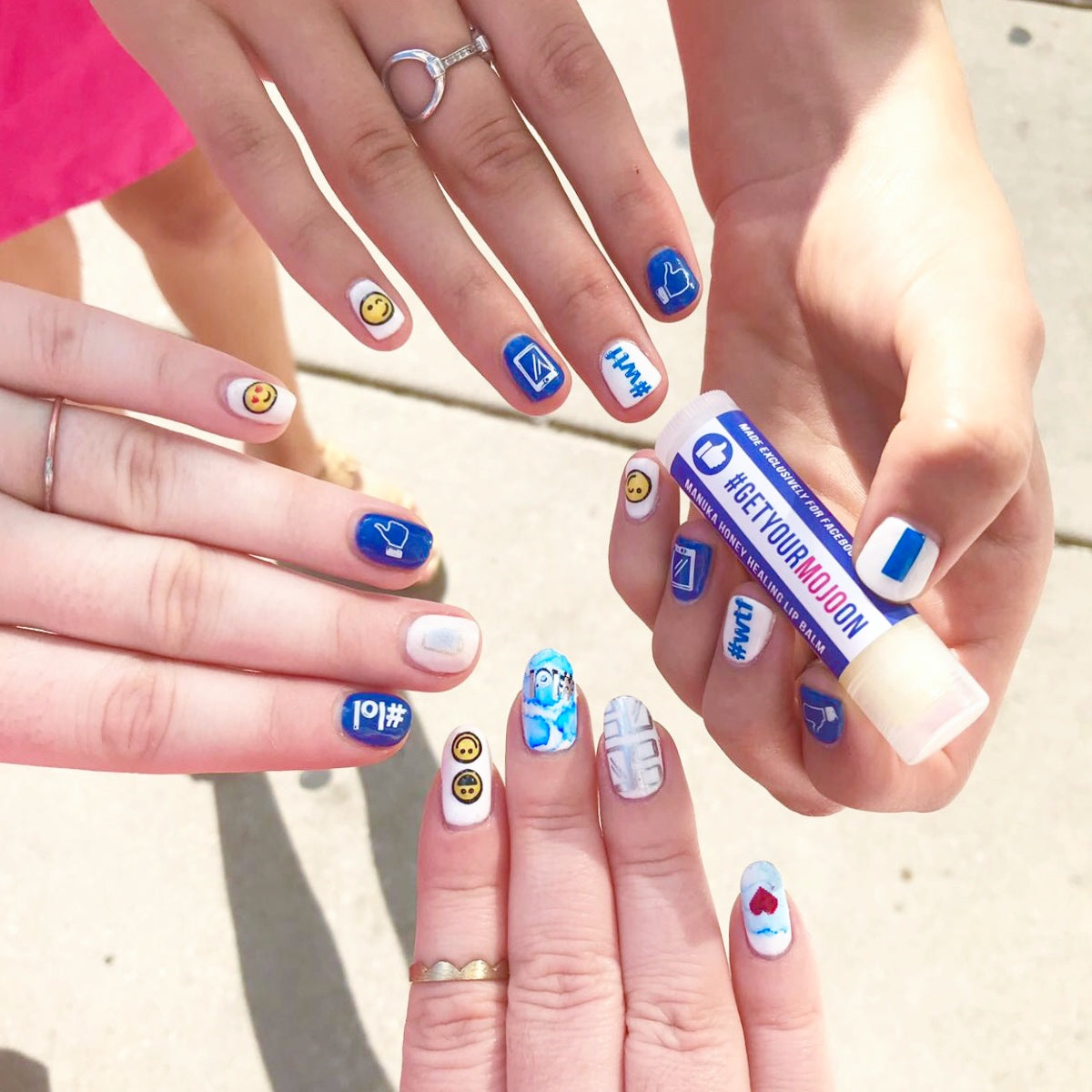 Facebook
Facebook invited Mojo Spa to set up a pop-up shop at their Chicago headquarters for their employees to shop and sample products throughout the work day. As there were quite a few Mojo Spa fans working at Facebook, we collaborated with the brand to create a Facebook-branded lip balm exclusively made available to all 300 employees.
Highlights
Custom Branded Product
Pop Up Shop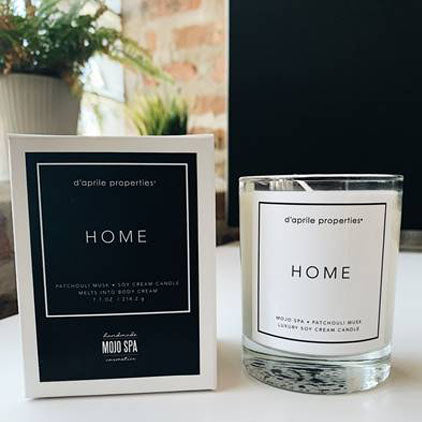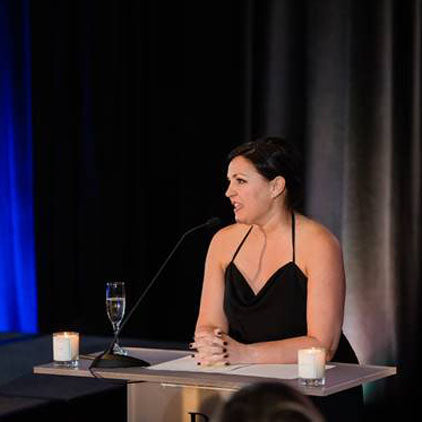 D'Aprile Properties
We worked with Chicago-based D'Aprile Properties to develop company branded soy massage candles. We developed four different custom blended soy candles scents, which were gifted to the company's 500 employees. This led to an ongoing wholesale relationship where Mojo Spa created custom gifts for the company's clients and employees.
Highlights
Custom Branded Product
Pop Up Shop
Wholesale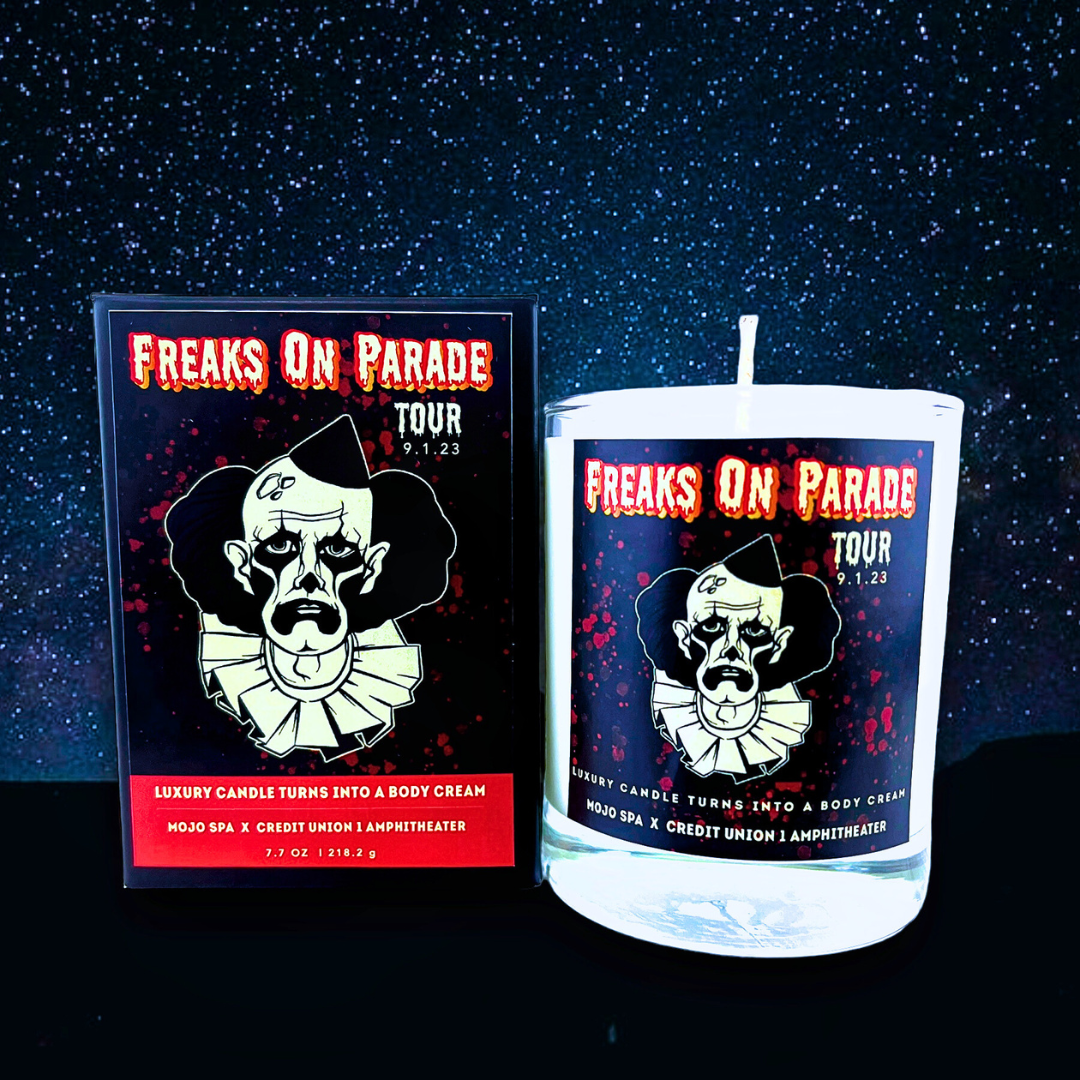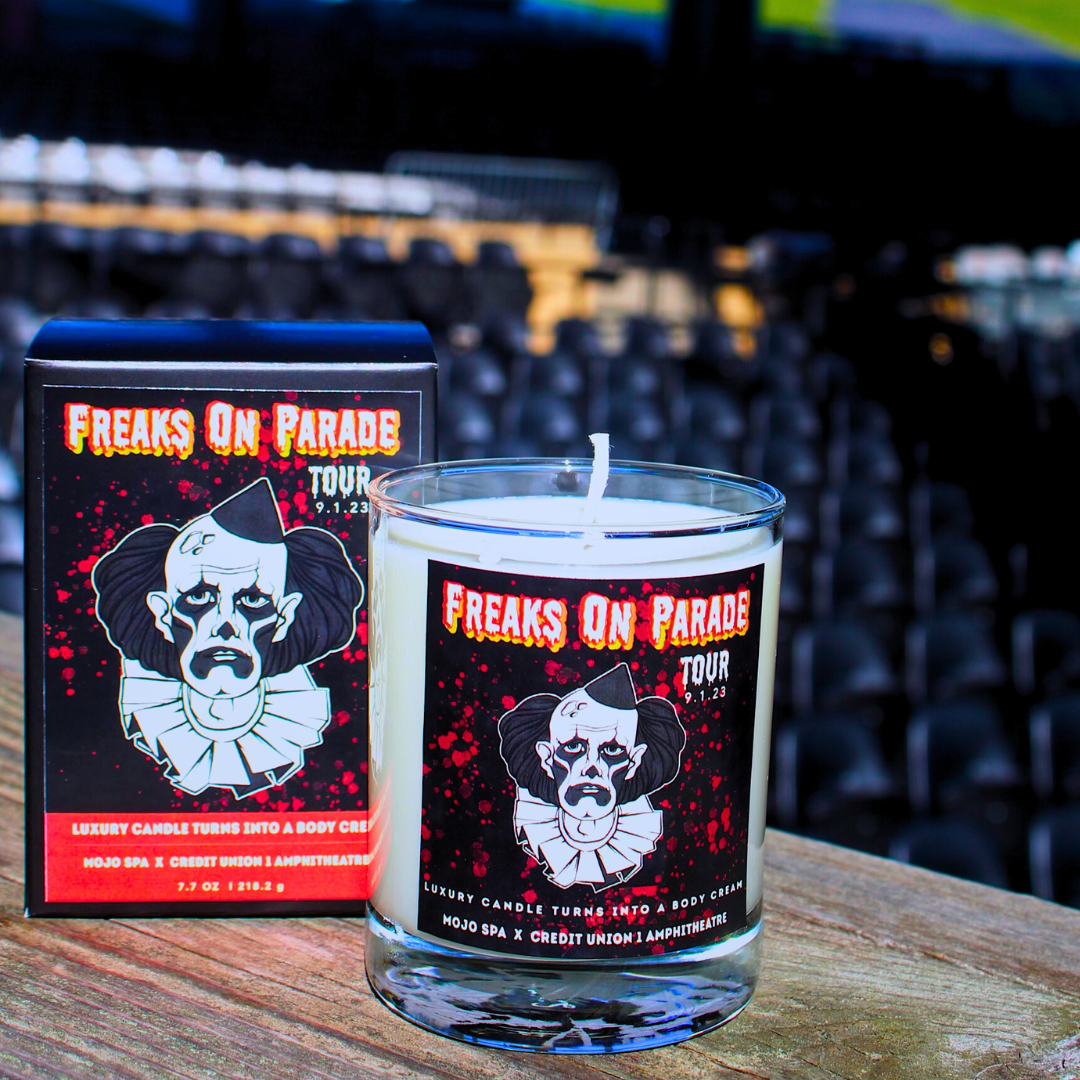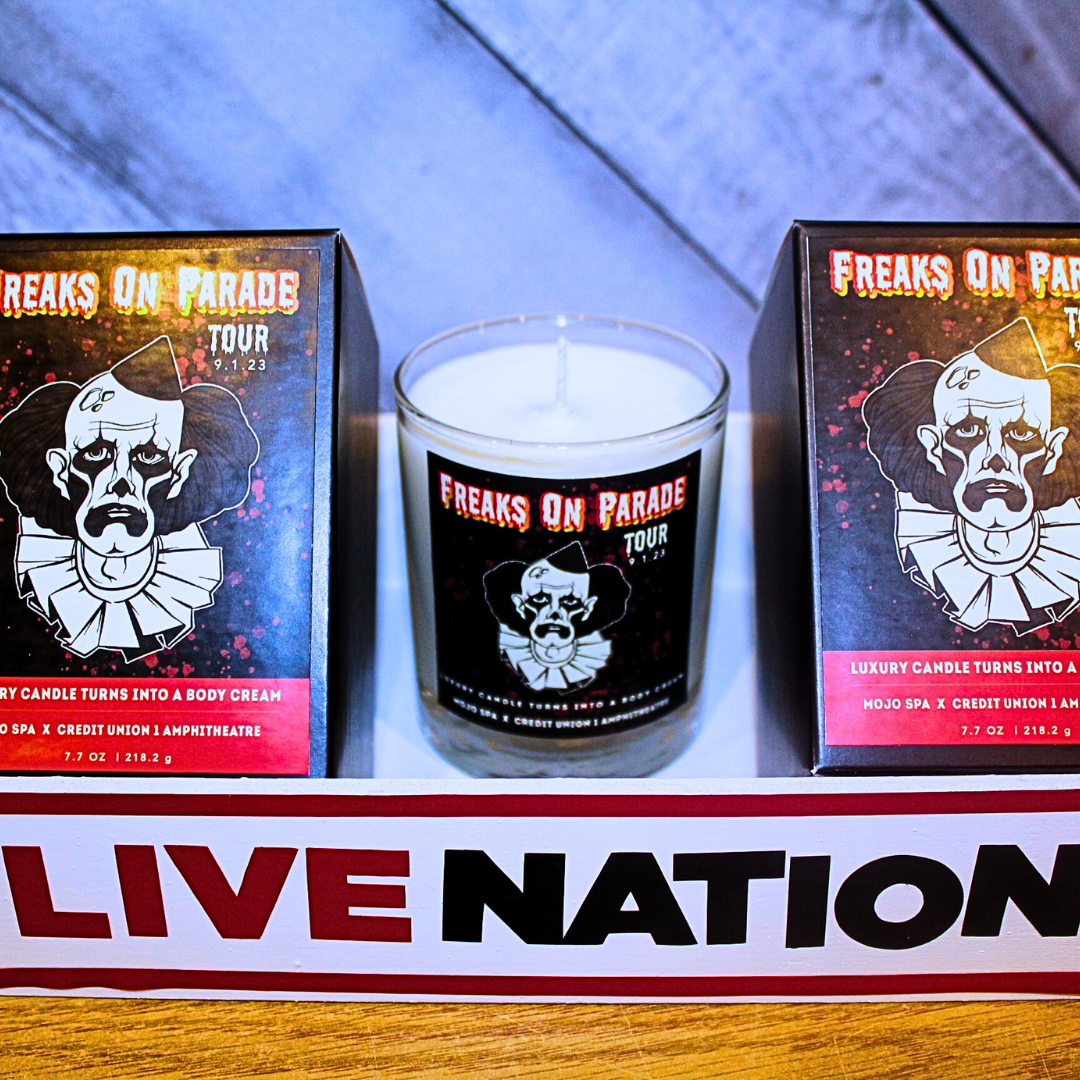 Freaks on Parade
We embarked on an electrifying partnership with Credit Union 1 Amphitheater for rock legends Rob Zombie and Alice Cooper's "Freaks on Parade" tour. In a unique twist to the rock 'n' roll spectacle, Mojo Spa crafted a custom branded tour candle exclusively for the band members and tour staff. This scintillating collaboration not only lit up the stages but also ignited the senses with a special aromatic touch!
Highlights
Custom Branded Product
Cross Company Promotion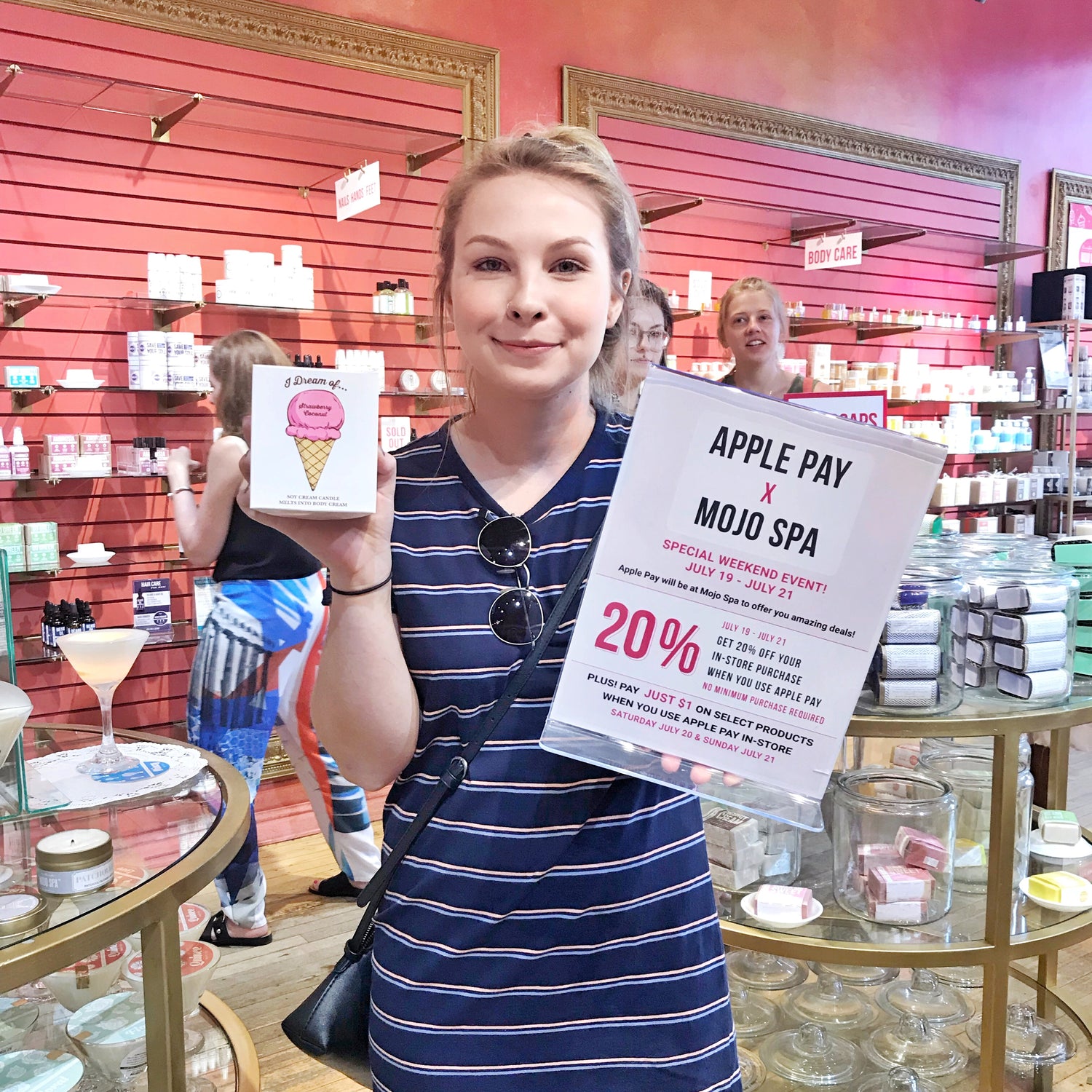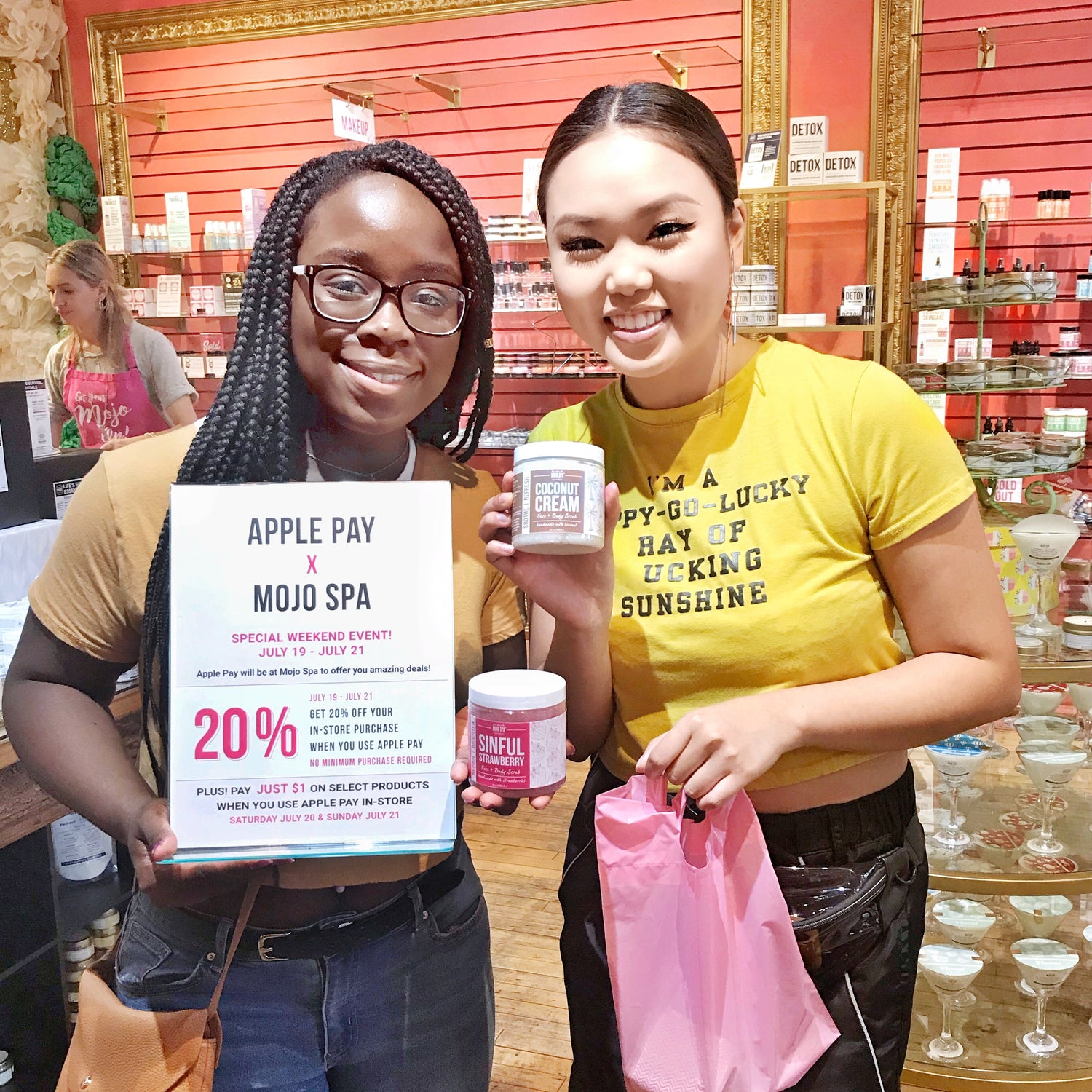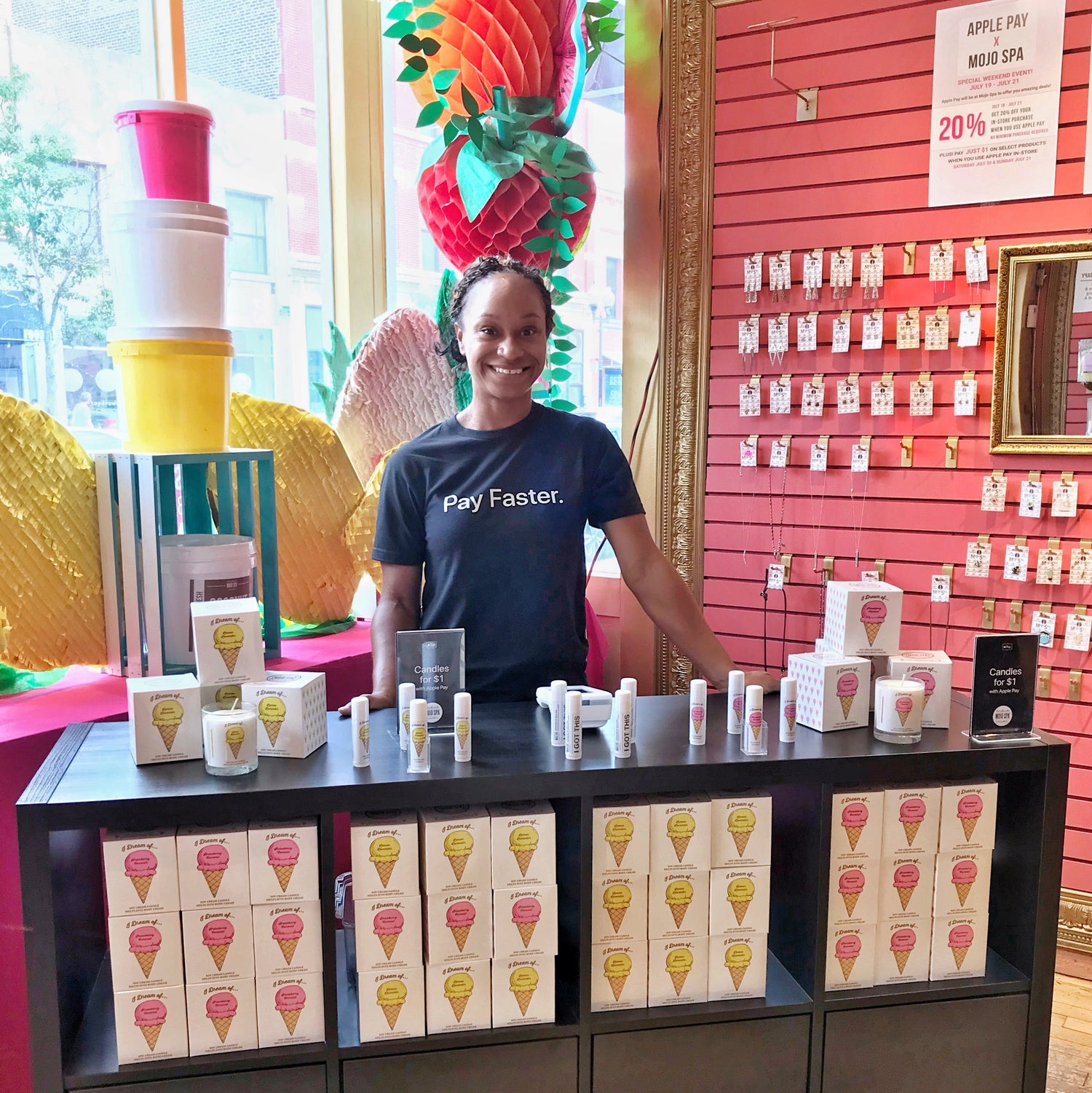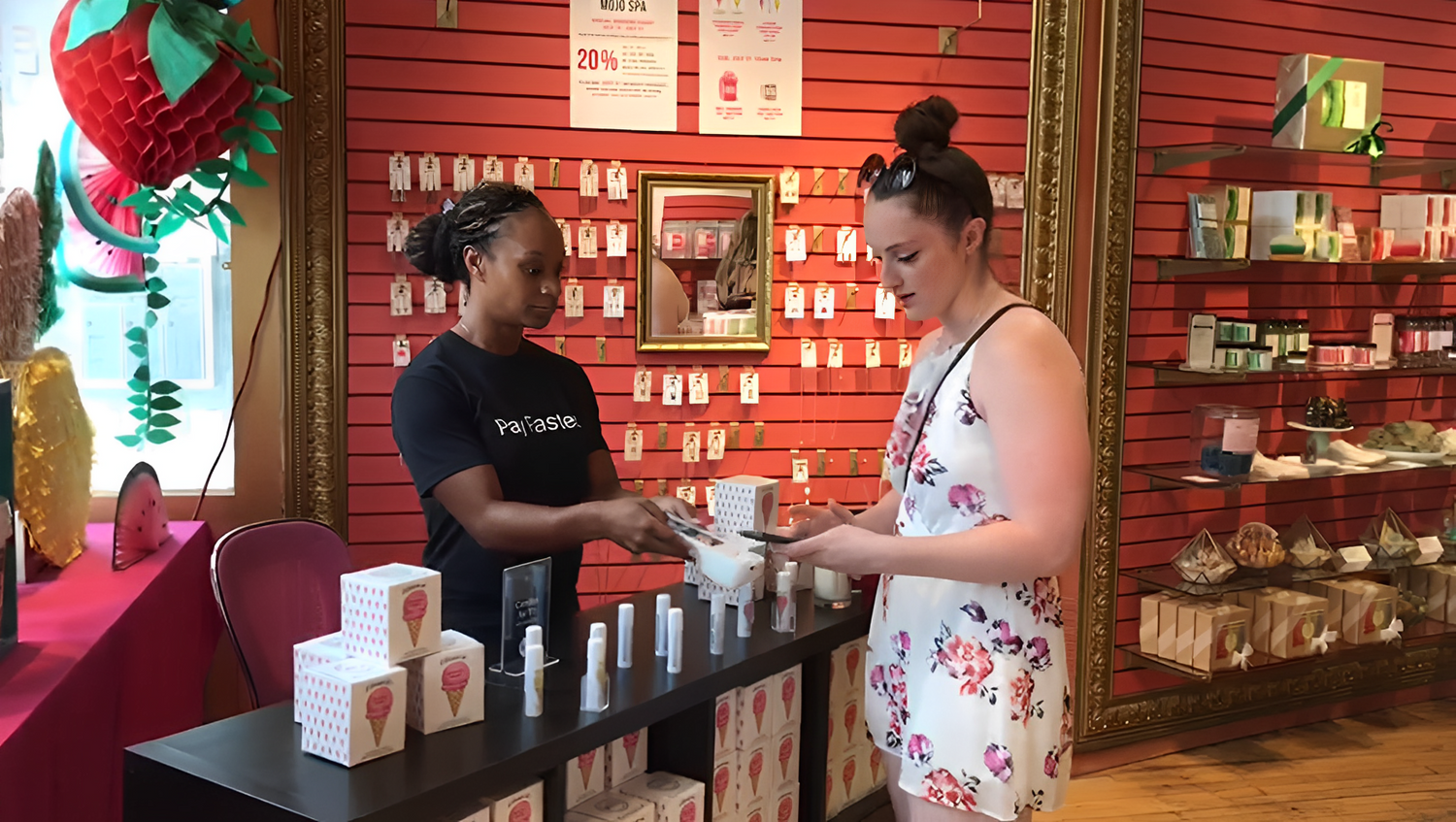 Apple Pay hosted multiple weekend pop-up kiosks in our Wicker Park store in order to promote their services to Mojo Spa customers. Apple Pay purchased exclusive products to re-sell at a promotional price in order to encourage customers to use Apple Pay when making their in-store purchases. We setup a designated kiosk area exclusively for Apple Pay representatives to assist customers with setting up accounts.
Highlights
Pop Up Shop
Cross Company Promotion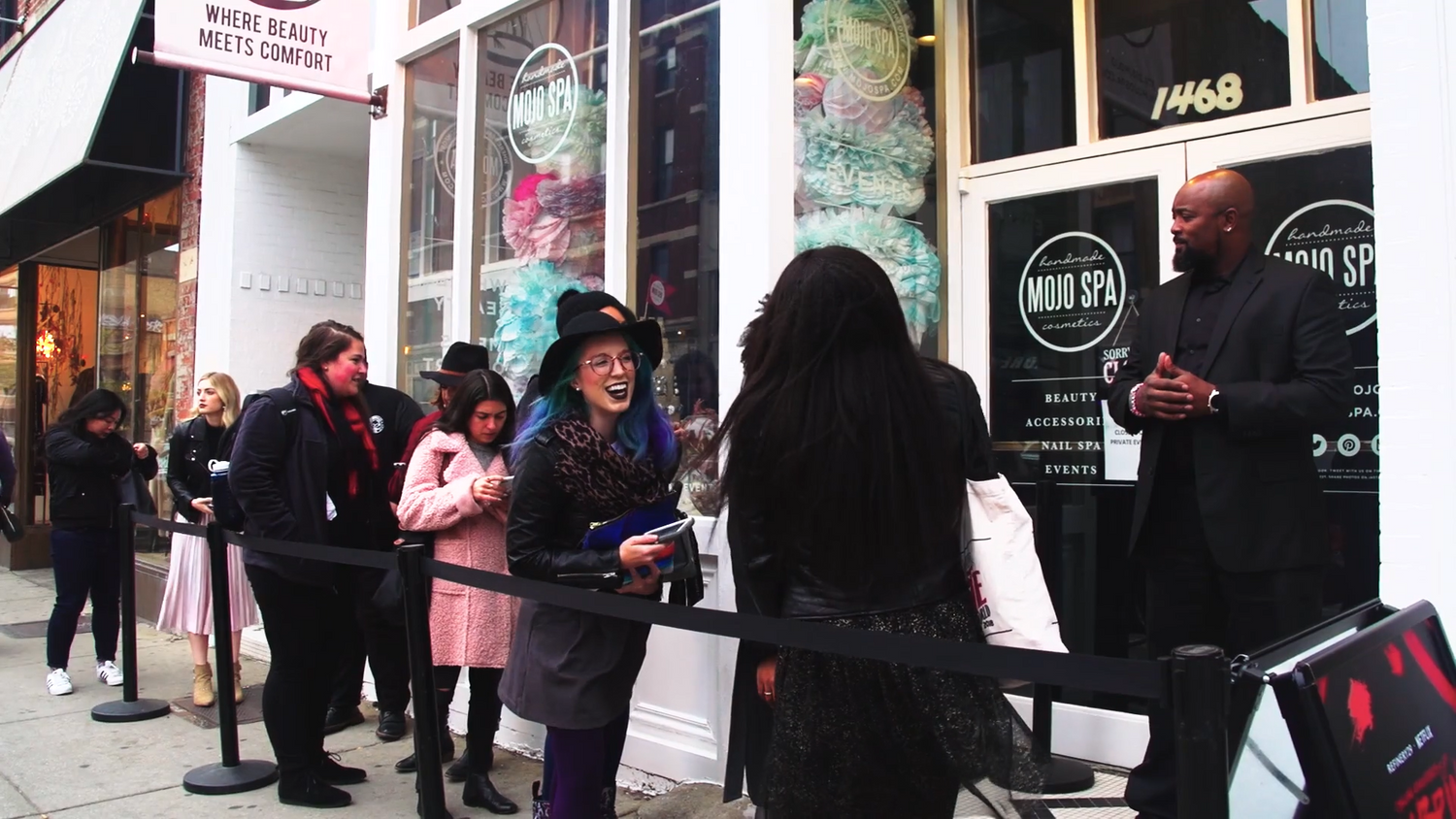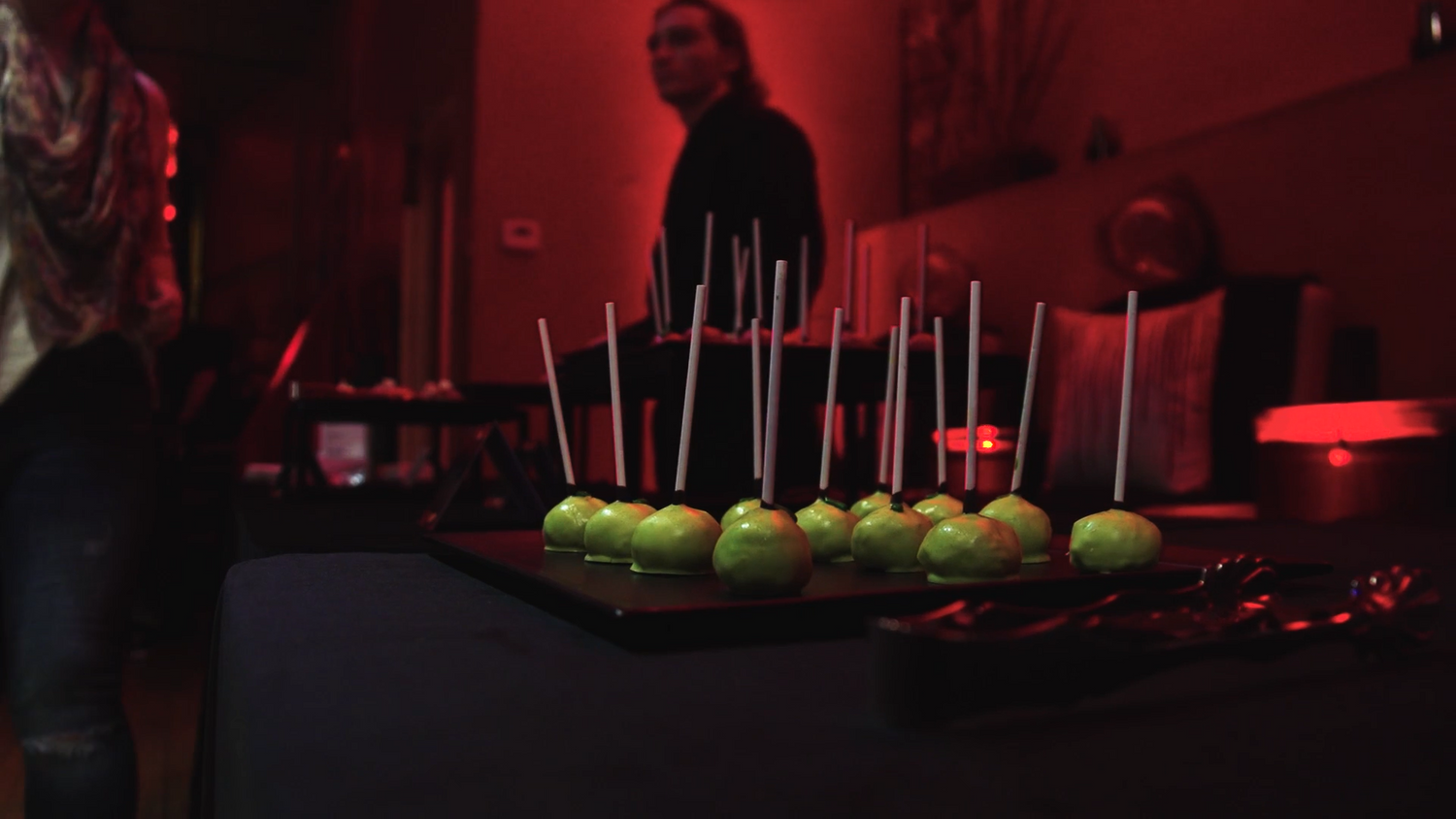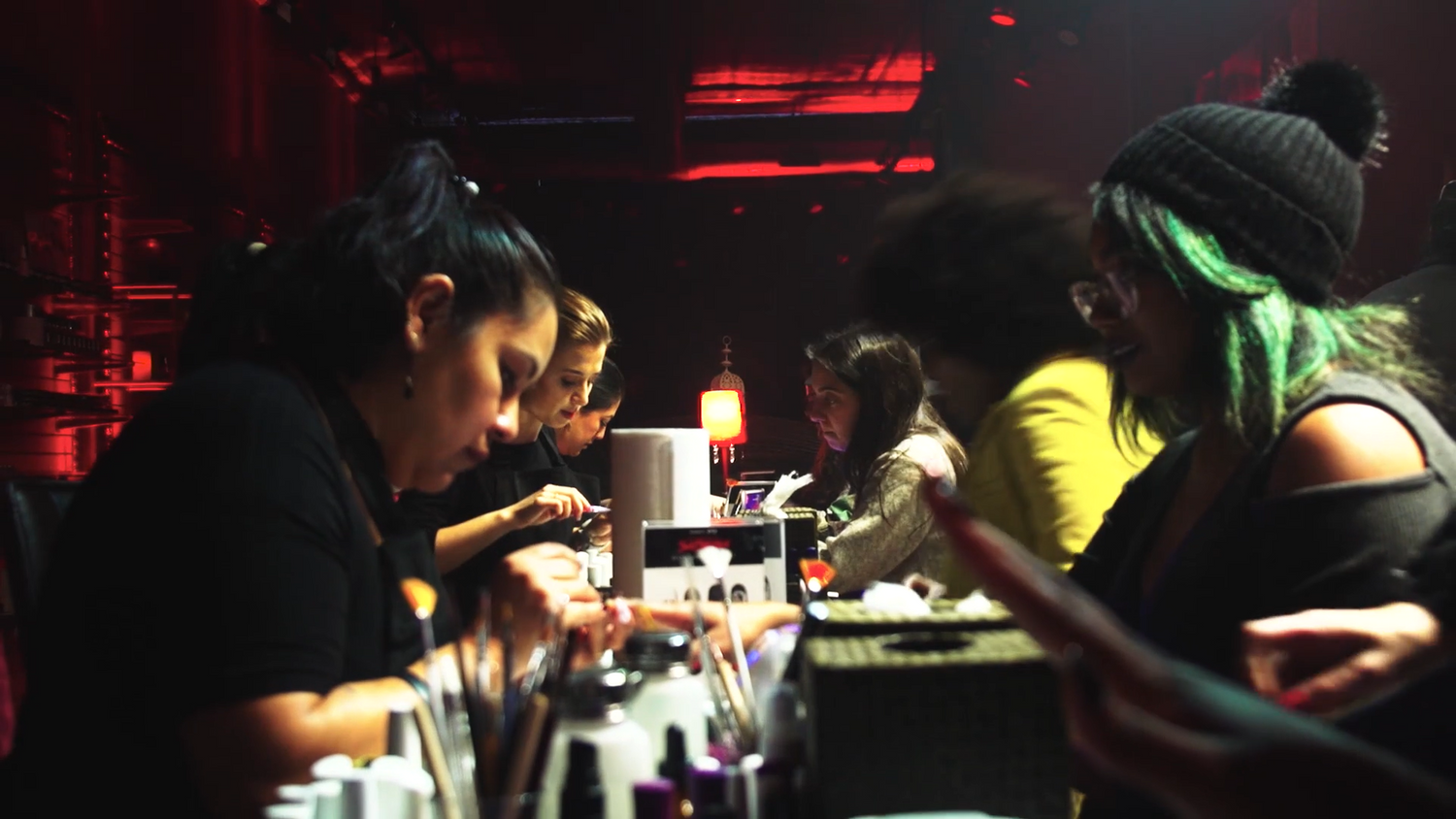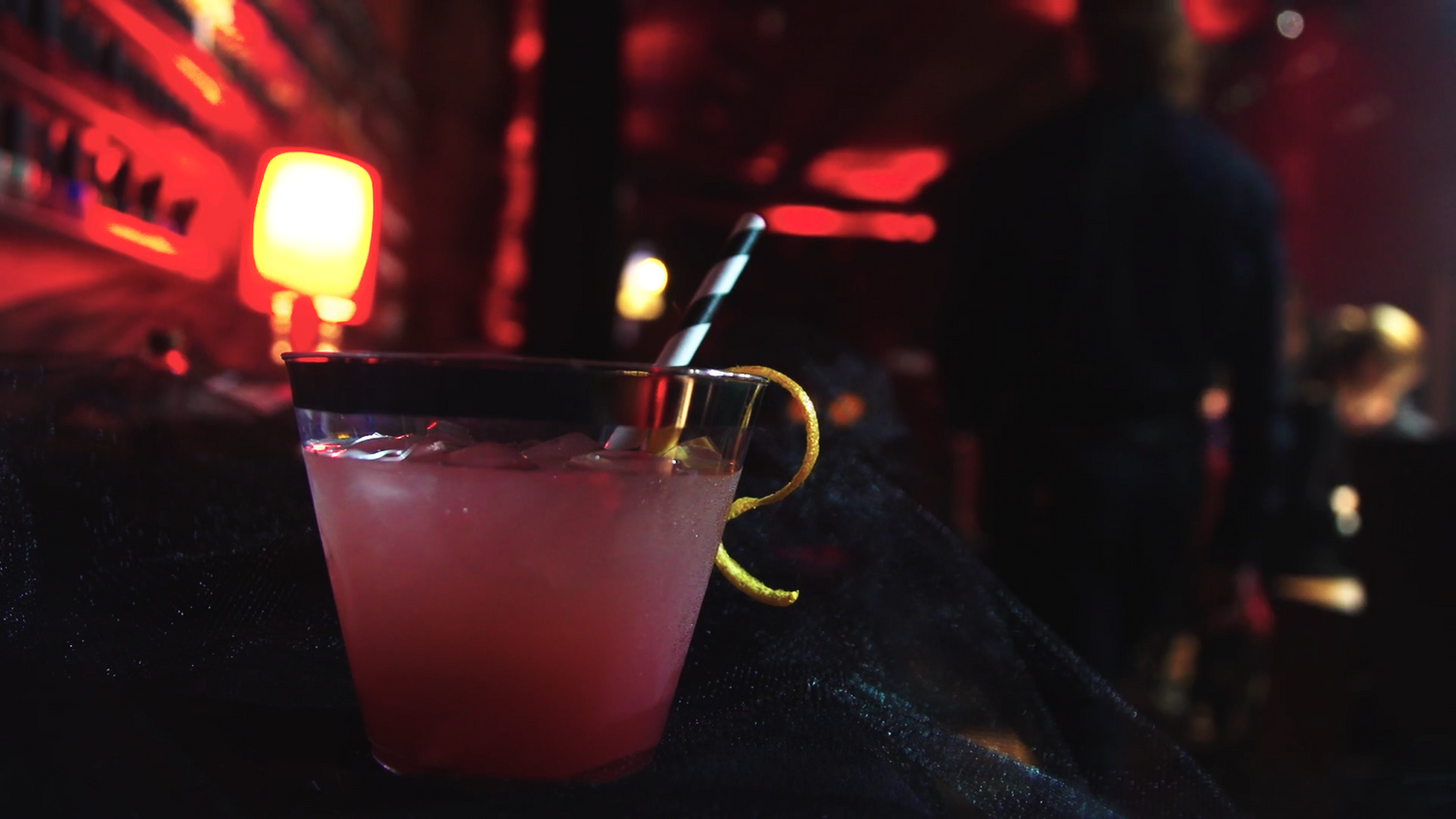 Netflix hosted an influencer event at our Wicker Park store to promote the Netflix premier of 'The Chilling Adventures of Sabrina' on Halloween. We worked with media partner, Refinery29, and Netflix's event production team to completely transform our store into a spooky witches' coven to fit the theme of the show.
Attendees received manicures with custom Sabrina-themed nail art, enjoyed a catered buffet with themed drinks, appetizers, and snapped Instagram worthy photos.
Highlights
Private Event
Spa Services
Custom Nail Art Designs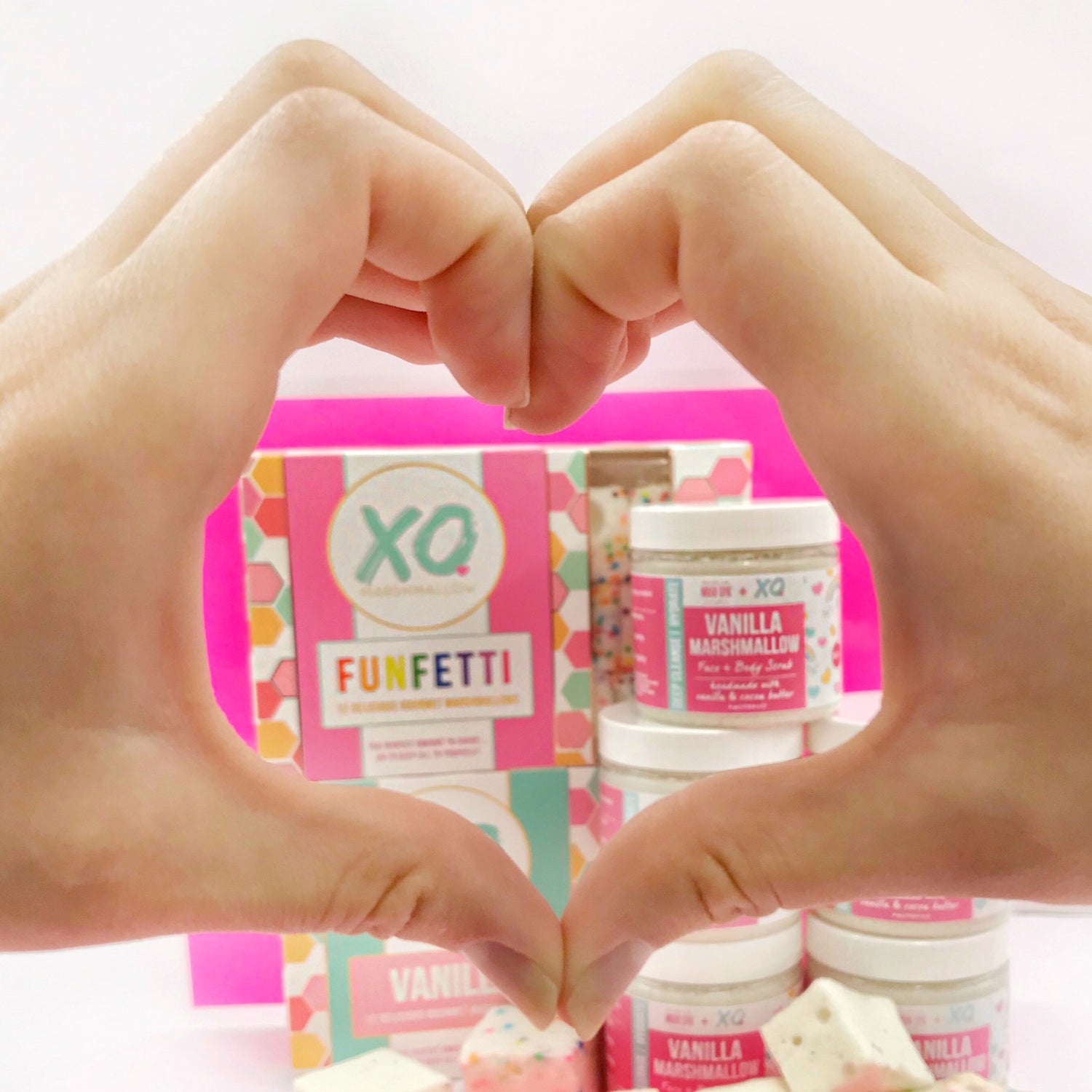 XO Marshmallow
We collaborated with local gourmet marshmallow company and cafe, XO Marshmallow, to create a Vanilla Marshmallow Face & Body Scrub inspired by their bestselling vanilla marshmallows. We developed this original product with a custom co-branded label to include in their Mother's Day Gift Set, which was promoted to both our customers in-store and online.
Highlights
Custom Branded Product
Cross Company Promotion
Wholesale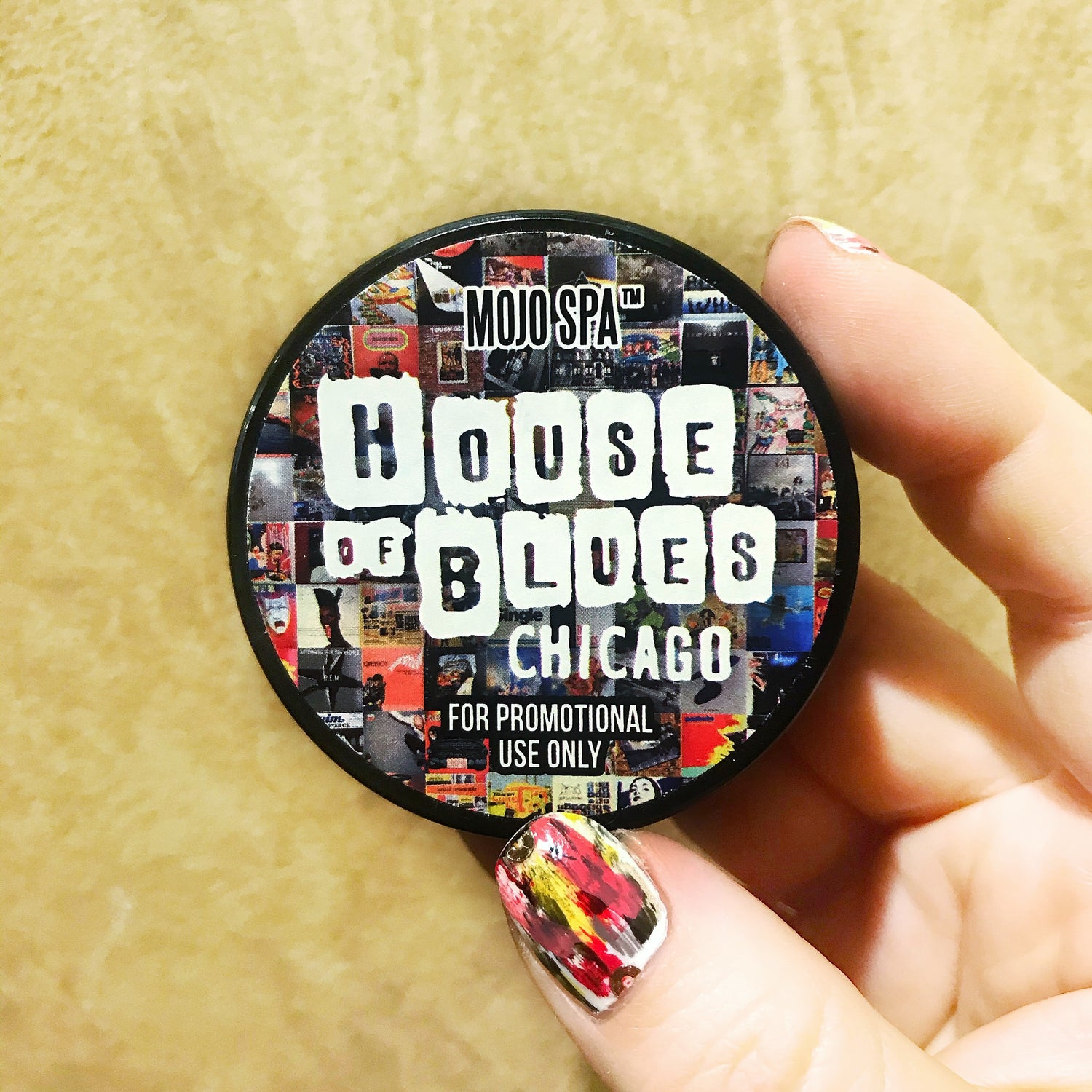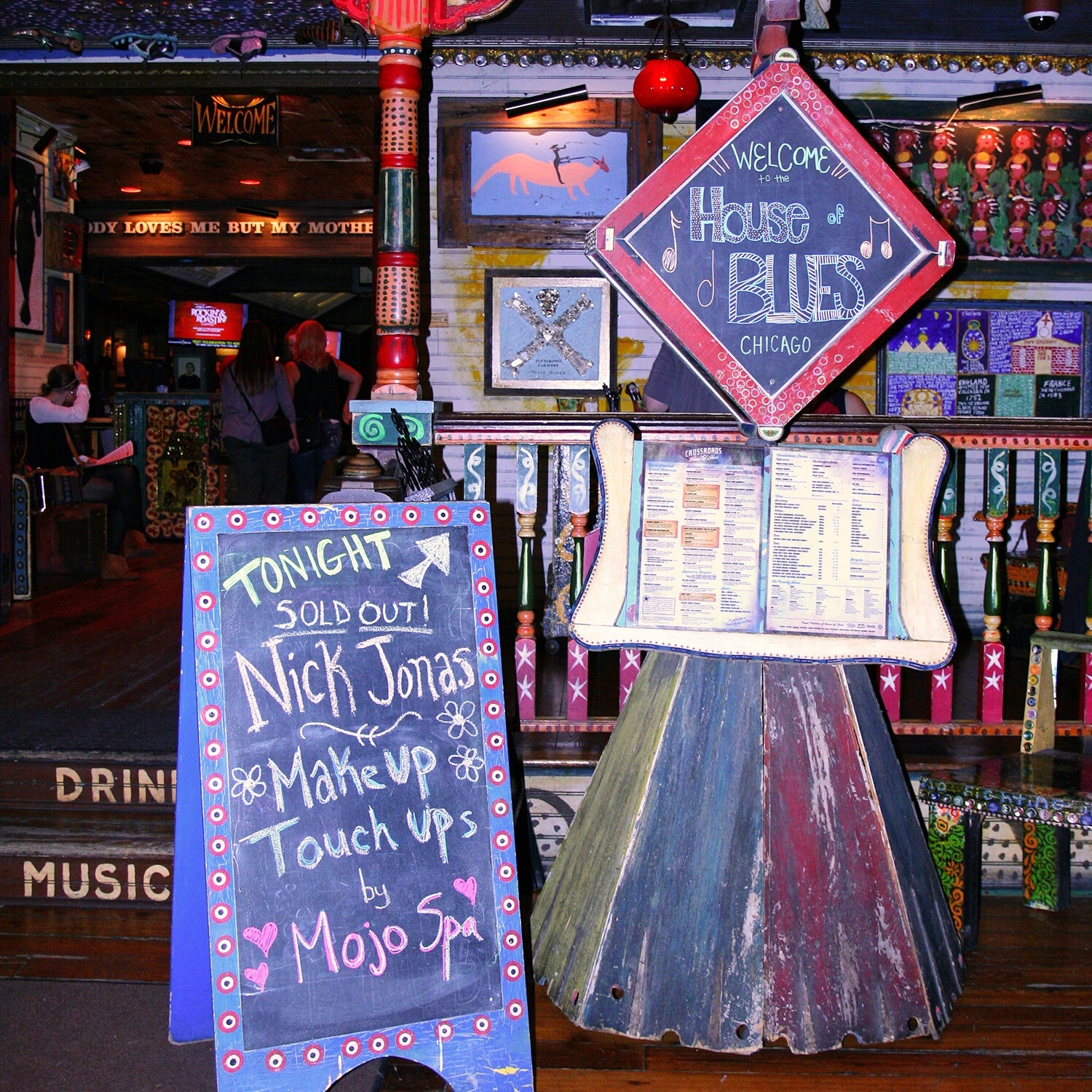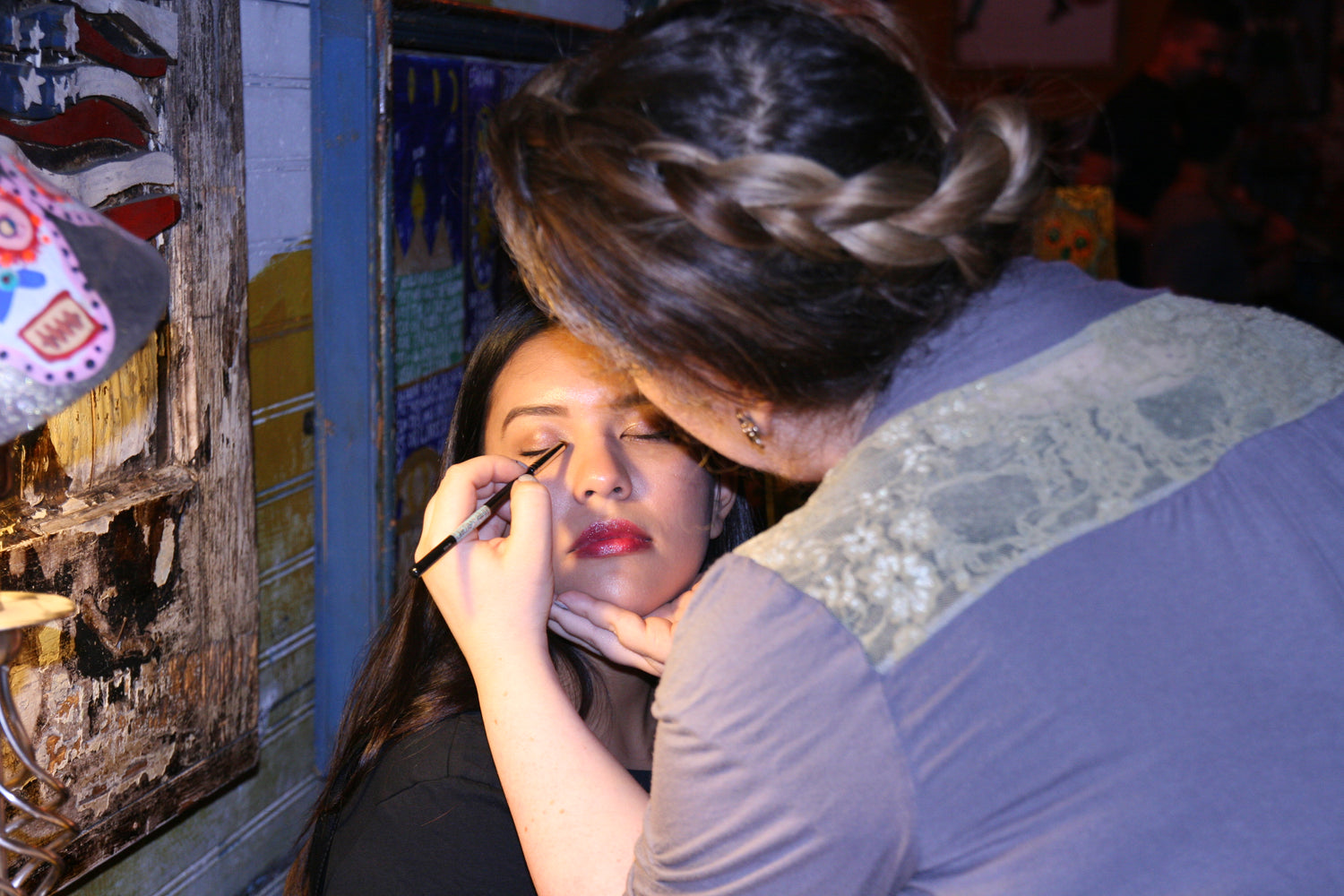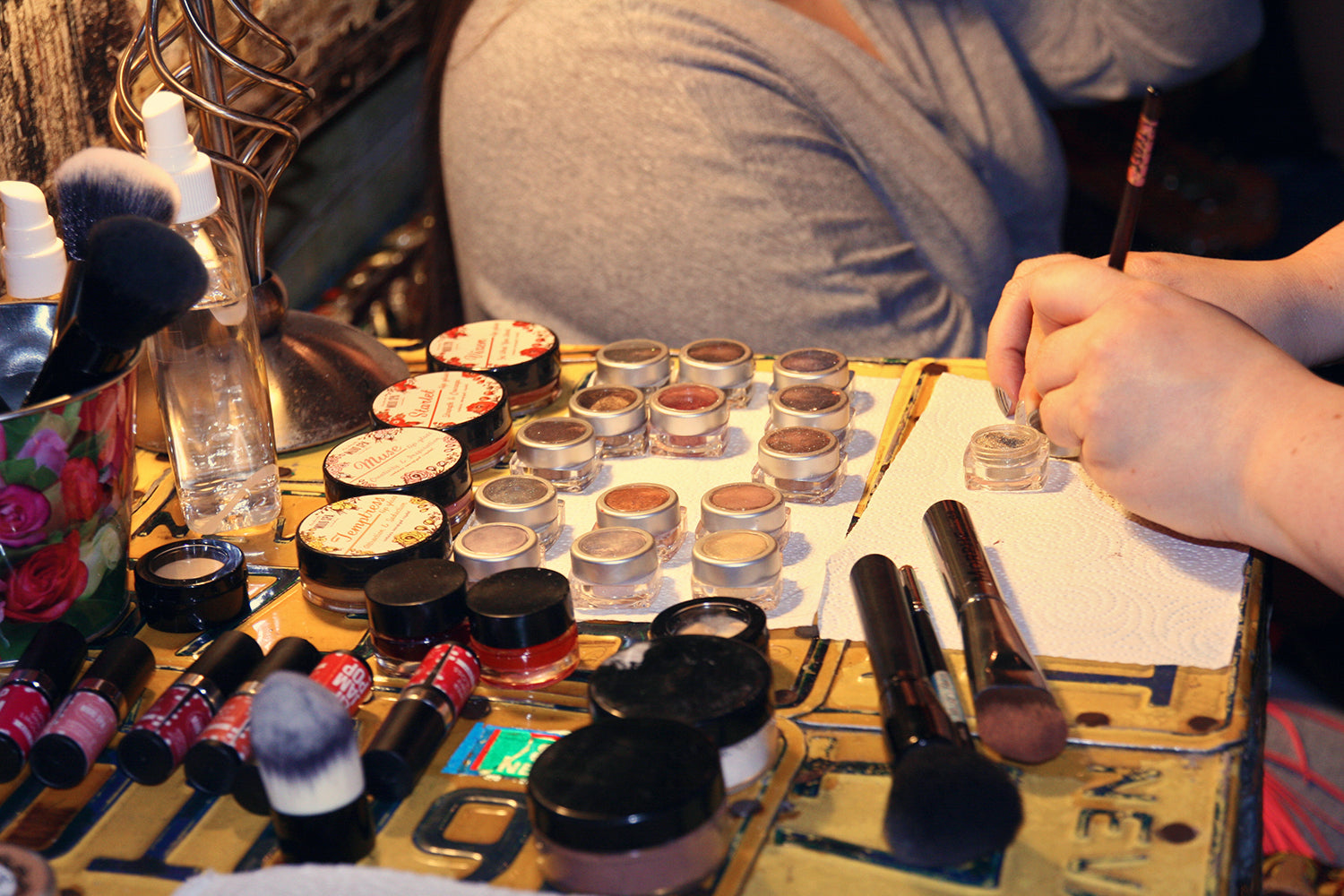 House of Blues
Mojo Spa was invited by House of Blues to provide VIP concert goers with makeup applications and consultations before walking down the red carpet. Live concert performances included Jessie J and Nick Jonas. We also created a custom company branded lip balm for the event.
Highlights
Custom Branded Product
Pop Up Shop
Makeup Applications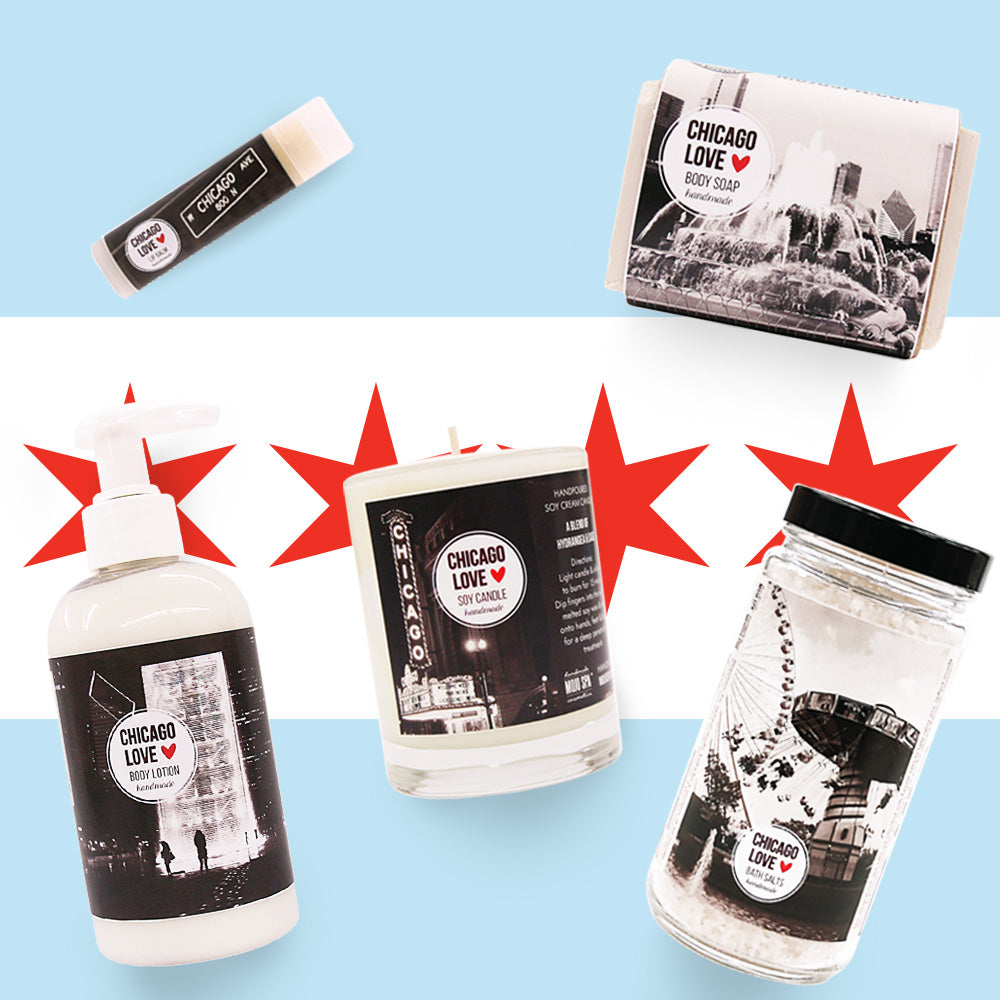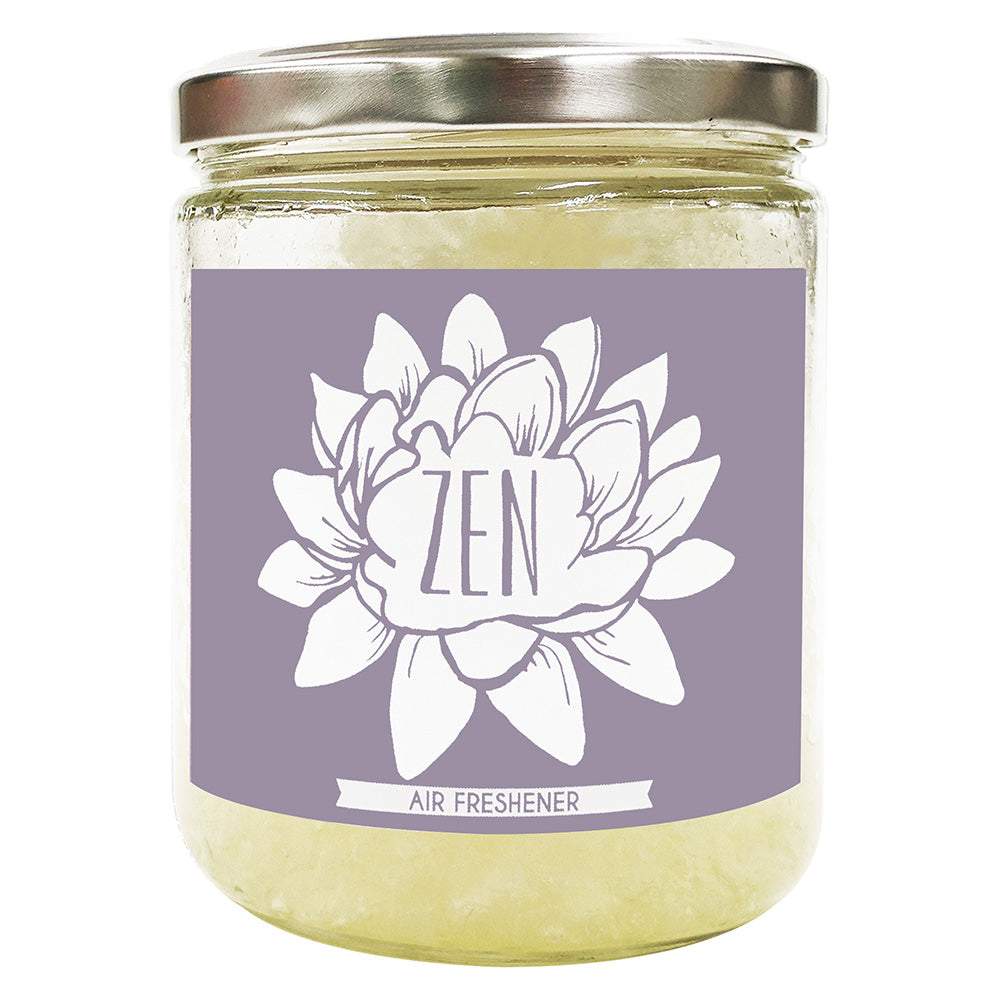 JW Marriott Hotel
The JW Marriott Chicago amenities program carries a selection of Mojo Spa products for hotel guests, Our 'Chicago Love' line is especially popular amongst tourists and Chicago lovers, as each product label features different iconic Chicago landmarks! The amenities program allows hotel guests to pamper themselves using our local handmade products and take a piece of Chicago home with them.
Highlights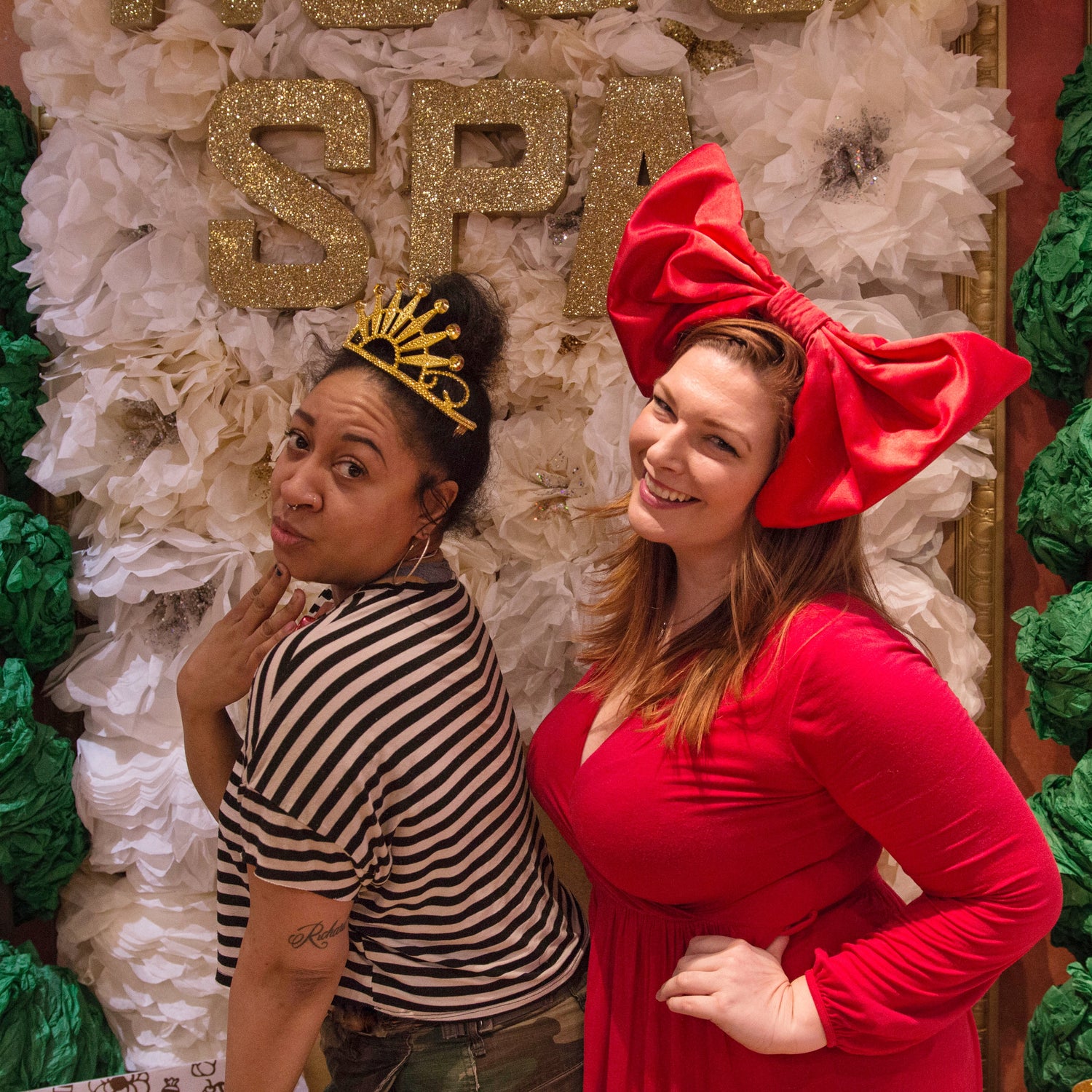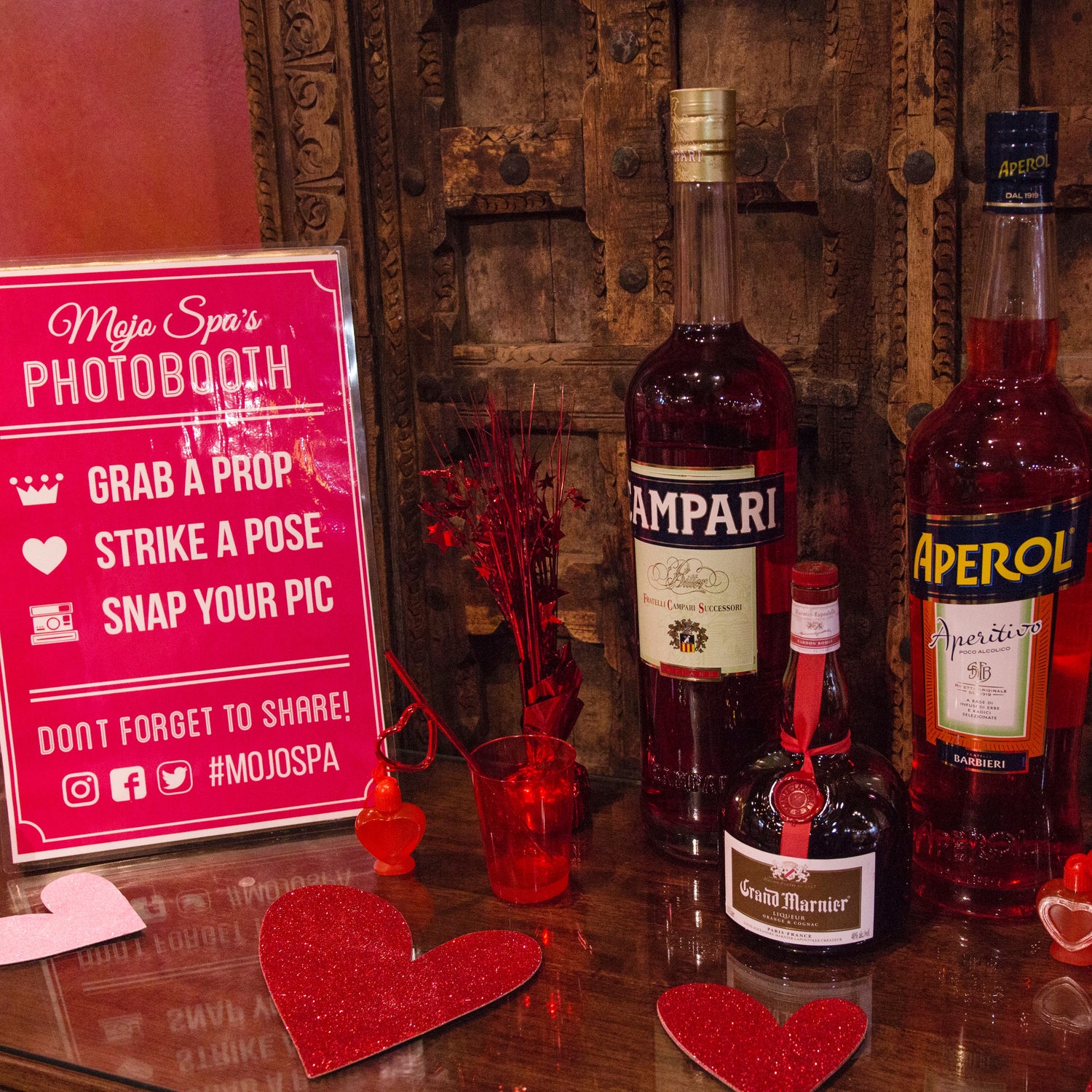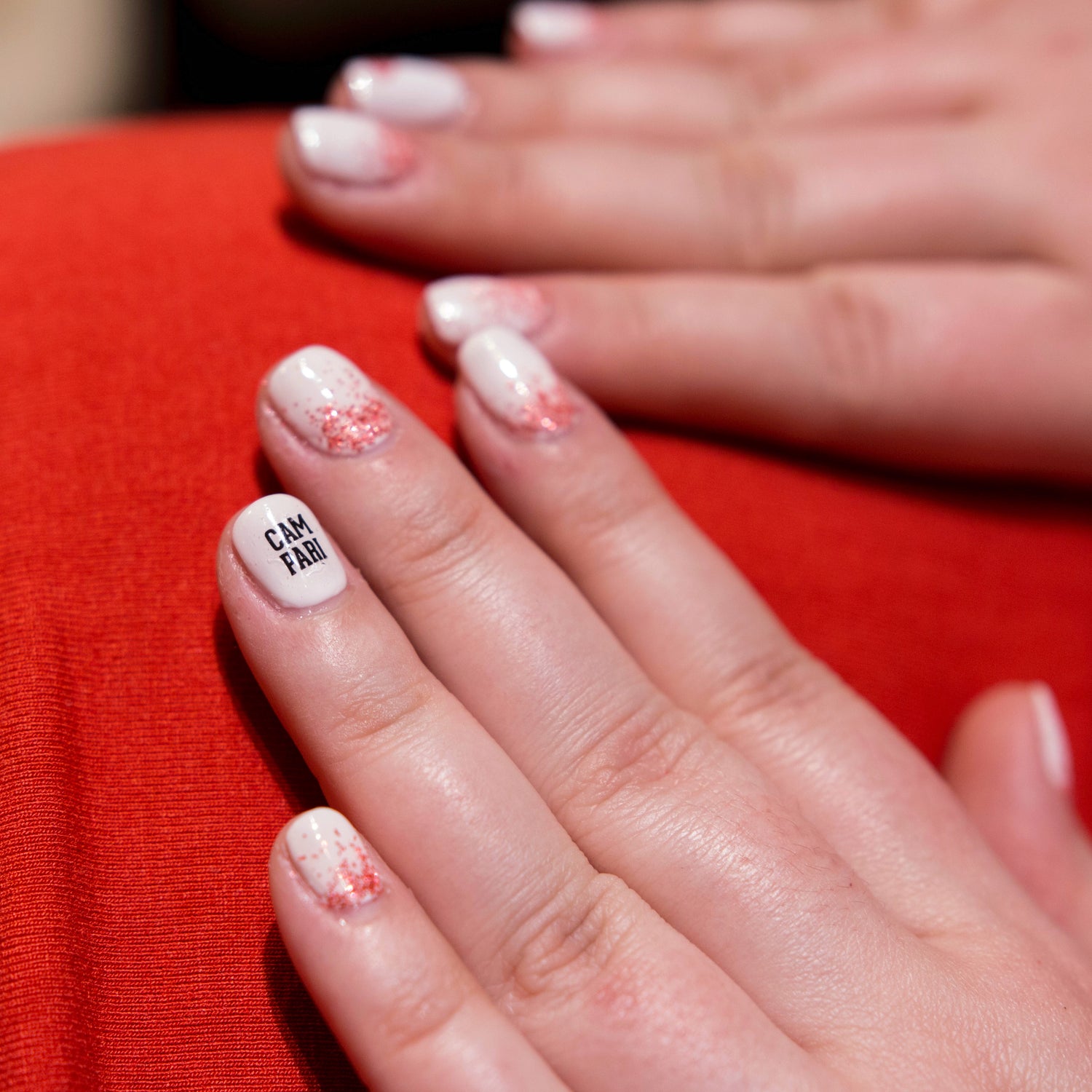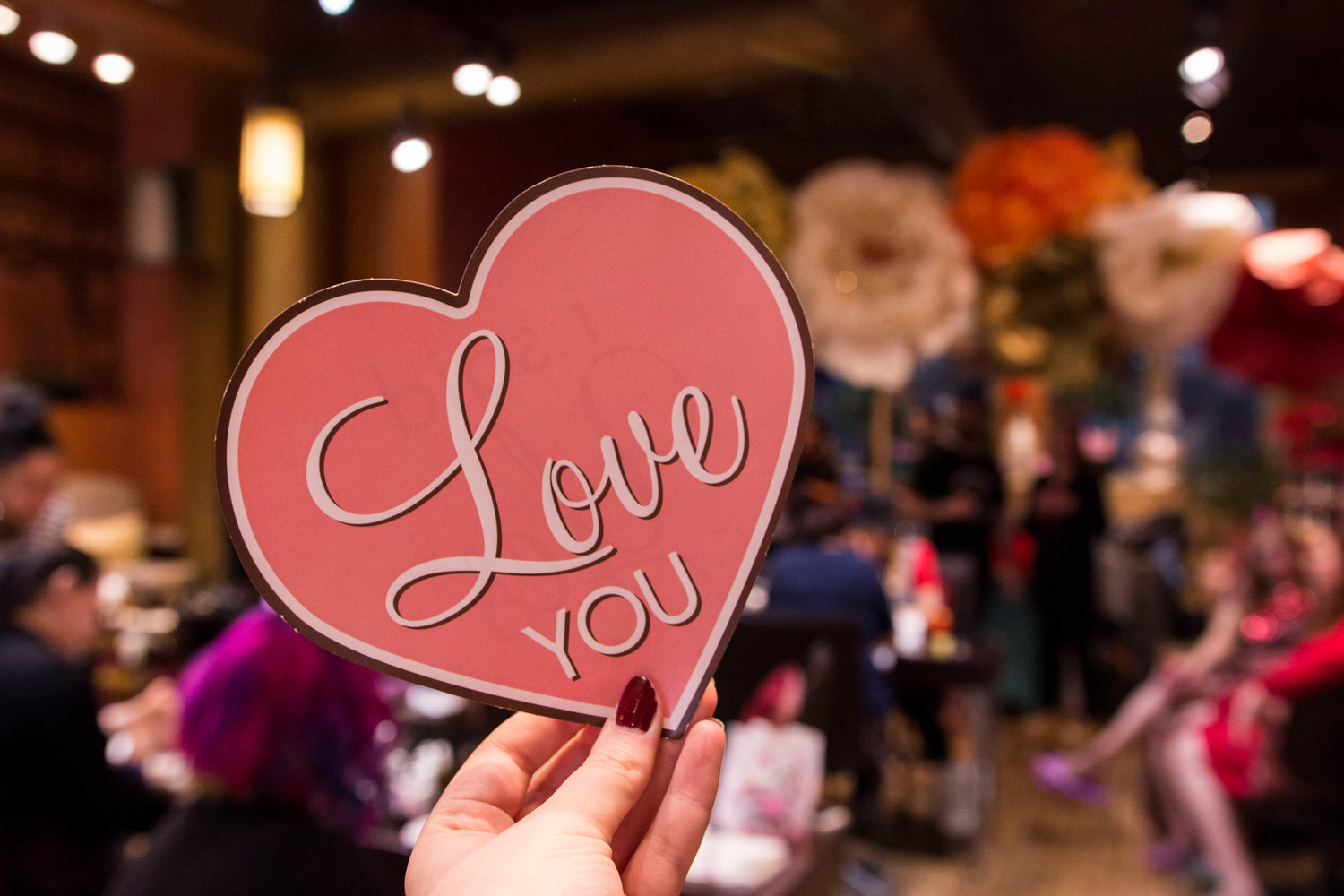 We hosted a Galentine's Day themed industry event with Campari for Chicago-based female bartenders. Guests were pampered with manicures and offered custom nail art designs with the Campari logo and colors. The brand created a bar for bartenders to sample and experiment with cocktails using Campari liquor. We created a themed photo booth area with props for guests to snap photos for social sharing.
Highlights
Private Event
Spa Services
Custom Nail Art Designs